Hammer and Loupe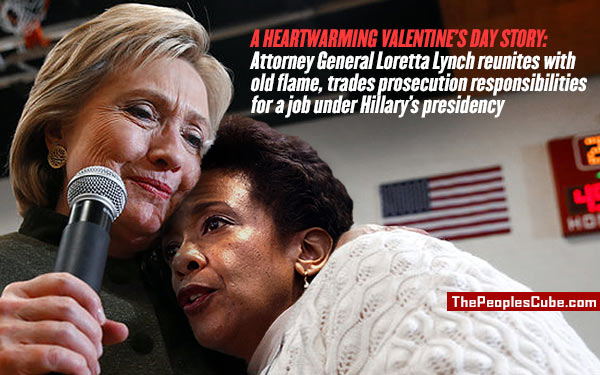 Attorney General Loretta Lynch trades prosecution responsibilities for a job under Hillary's presidency.
Lynch and Hillary's romance goes back to the years when
Loretta became a US attorney
for the eastern district of New York under President Bill Clinton. The relationship began with passing letters saying 'hey girlfriend' and small gifts. The exchange soon convinced Hillary to move to New York to get closer for the relationship. The passion got more intense during Hillary's 2008 presidential campaign as Hillary and Loretta found secret rooms to hide from Huma to get more time with each other.
Sadly, things began to fall apart when Hillary became secretary of state, stuck in Washington, DC, and Loretta remained an attorney in New York. They may have tried moving closer together but were afraid to talk about their plans openly until it was too late to fix this. They both continued to live separately as Loretta took the job as US attorney.
In a heartwarming Valentine's Day ending of this story, they have finally met up and rekindled their relationship, hoping for the return of happier days. Their happiness, however, very much depends on whether or not Hillary will become President. If she will, they will be able to be with each other once again - as long as Hillary can get rid of Huma.
Do your part and deliver as many votes for Hillary as humanly possible - her and Loretta's happiness depends on it. If you don't, you will live for the rest of your miserable life knowing that you are a bigoted and homophobic Neanderthal without a heart. We surely will.

Red Square

A perfectly manipulative and progressive MSM Valentine Day story to advance Hillary's inevitable presidency. Great job, everyone!


Lev Termen
I think a lot of people love lynch, but regrettably Hillary has a Secret Service protective detachment.