KOOK

Hillary-Monica Vanity Fair Victimization-Distraction From Benghazi
See also the
"Bill took advantage of me" report by the Washington CBS Local
,
A timely-for-Hillary scaling-down-of-a-
"tell-all" book
to a mere interview in
Vanity Fair
evincing Lewinsky's apparent abandonment of previously-reported plans to try to become a new "bombshell":
Now, thanks to Monica, Hillary won't have to worry that LIV Millennials might stumble on this:
rather than becoming absorbed in the "history" of the late 1990's. However, there remains the risk that Millennials who have succumbed to
METUGRICUNA
might bring to the LIV Millennials' attention the nature of Hillary's and Bill's War on Women Subordinates in the Workplace:
--KOOK

deadbuffalopodcast

She got da mooves, too!


Opiate of the People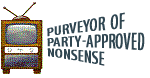 A brilliant move by Hillary to change the subject set the record straight!

Give that woman a cigar!


Macker
As opposed to setting the record ghey?


KOOK


Yakov-Luvlas

WHAT IS THIS "BENGHAZI"? IT IS NOTHING MORE THAN ANOTHER SMEAR KAMPAIGN BY THE KAPITALIST "TEA 'PARTY'" TO DEIGN AND DESTROY OUT MOTHER OF THE MOTHERLAND, KOMRADE HILARY!
IT WILL FAIL!!!
KOMRADE HILARY HELPED OUR GLORIOUS, UNDEFEATED, AND UNBROKEN LEADER, THE WONDROUS BARAKK OBAMA!!! LONG LIVE THE GLORIOUS LEADER!!! LONG LIVE THE MOTHER OF THE MOTHERLAND, KOMRADE KLINTON!!!
ANY-thing to draw attention away from her culpability in the Benghazi mess. Monica Lewdsinski does it again by making headlines when Conservatives in the House are ready to pounce (one would've had to figure that her ***ahem*** "usefulness" wasn't quite over with yet). No surprises here from the Liberal Propaganda Sphere....