Captain Craptek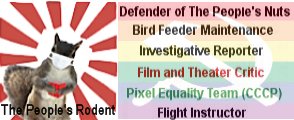 The Tennessean June 20, 2013:
Joycelene Johns, 68, has lived in Mount Pleasant off and on for about 30 years and has constantly put up with cloudy, odd tasting water.
"I'll drink it,"
she said,
"but I pray before the first sip."
Ms. Johns was not alone in her opinion of the local water quality.
"Statewide Organizing for Community eMpowerment, a Smyrna-based civic action group that had been working with Maury County residents to tackle water quality complaints in Mount Pleasant. Residents there have complained to the state for months, saying some children had become ill drinking the water. A meeting was organized by State Rep. Sheila Butt, R-Columbia, and attended by residents, TDEC and local officials."
That's when the trouble began. A Tennessee Department of Environment and Conservation deputy director warned the group that "unfounded complaints about water quality could be considered an 'act of terrorism.' We take water quality very seriously. Very, very seriously."
Attendees stared dumbfounded as the speaker continued, "You need to make sure that when you make water quality complaints you have a basis, because federally, if there's no water quality issues, that can be considered under Homeland Security an act of terrorism."
After a brief moment of stunned silence, one audience member asked if the speaker could "say that again, please."
~
Rep. Butt, who organized the meeting, was also shocked. "I think that we need to be very careful with how we use the words 'terrorist' and 'terrorism,' " she said. "I thought it was out of context. That did not apply to anything that we were discussing at the meeting."
Butt said the water issue had been marred by "communication breakdowns" by both sides, which wouldn't be made easier with such inflammatory comments being made."
When contacted regarding the apparent threatening tone of the deputy director's warning, officials assured us they were "looking into" the allegations, adding: "This is not the way we like to handle this sort of situation. Take for instance the recent police encounter with those 7 young graduate students in Massachusetts. The authorities quickly realized they represented no threat to the community and released them on their own recognizance. The representative cited the following story:
"State Police and the FBI have determined that the group cited for trespassing at the Quabbin Reservoir earlier this week have no connection to any criminal activity or groups.

Shortly after midnight Tuesday, seven people were caught trespassing at the Quabbin Reservoir in Belchertown. The five men and two women are from Pakistan, Saudi Arabia, and Singapore, and "cited their education and career interests" for being in the area. The men told police they were chemical engineers and recent college graduates.

According to State Police, "The investigation has determined that the only crime the group committed was trespassing, and there is no evidence that there was a threat to the water supply." Their names will only be released if the court determines that trespassing charges should be issued against them."
Quabbin Reservoir is one of the largest man-made public water supplies in the United States. Created in the 1930s by the construction of two huge earthen dams, the reservoir is fed by the three branches of the Swift River, and seasonally by the Ware River. Quabbin's water covers 39 square miles, is 18 miles long and has 181 miles of shoreline. When full, Quabbin holds 412 billion gallons of water.
"It's all a matter of priorities," a reservoir guard said when interviewed yesterday. "We take allegations of odd tasting water very, very seriously around here."

TheFineReport.com

NO JOKE:
US Troops Training In Egypt On Egyptian Complainers:
http://www.washingtontimes.com/news/2013/jun/21/us-soldiers-set-deploy-egypt-riot-control/

Red Walrus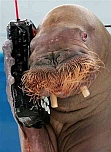 R.O.C.K. in the USSA

DHS and TSA have determined that since none of the hijackers were elderly grandmothers, three year olds, Tea Partiers, or nursing mothers, 9/11 was not an act of terrorism.

Red Rooster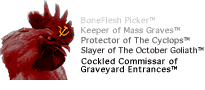 Sorry about your water supply.... we were just busy trying to remain relevant....

Red Square

R.O.C.K. in the USSA
DHS and TSA have determined that since none of the hijackers were elderly grandmothers, three year olds, Tea Partiers, or nursing mothers, 9/11 was not an act of terrorism.
Congratulations, comrade R.O.C.K. - this is now a Laika Headline.
Homeland Security chief Janet Napolitano: TSA findings reveal that since none of the hijackers were babies, elderly, or Tea Partiers, 9/11 was not an act of terrorism
I also added the People's Cube stamp to your picture, it was too good to be left anonymous.

R.O.C.K. in the USSA

Thank you, Comrade.

I did it for the Children™.