The Red Terror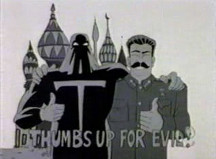 The Truth First!
http://truthfirstnow.blogspot.com/
Re-edukators of this calibre deserves an extra beet.
Make sure to pop by and take the poll!
But I beleive they may have over-stepped the boundaries of equalness...
"The ancient Africans were direct descendents of the beings who traveled through the stars and found Earth. Many of these beings are referred to as Gods."
Is he suggesting that there is a God? What would Karl 'n' Joe 'n' Vlad think of that? Would this make the author a thought criminal? Should he be denounced? Does the fact that I would even question the author make me a racist rethuglikkkan™?
Sorry...just had to share this.
/vodka

Superkommissar Maksim

What a hoot!
and the poll results are priceless.

Komrade Turboski

What Obama means to me
What Obama means to me
by David Tsotsi Kasumali
To me, Obama represents not ­only an office but a person. I'm ashamed to say it but I didn't know who Obama was before the election. Then he was just a name. Then he was a face, a slogan, and a voice. Now, he is a person, very real human and he's President! He's the first real person to be President. He is respected everywhere in the world and admired and it makes me proud of my African heritage. I want to learn more about it.
Obama has brought people and the world together.
"Obama" should be in the dictionary. What other word can describe hope, unity, change, expectation and leadership in just three ­syllables like Obama does?
David Tsotsi Kasumali graduated from Swarthmore College this year and plans to enter law school.
Posted by
Truth First
at
7:48 PM
0 comments

President Obama surveys the creation of his fathers and great symbol of African civilization.


http://4.bp.blogspot.com/_1zTnXc4OmgU/SinRebV3wEI/AAAAAAAAAVU/1BmM-H-ahJw/s1600-h/image5062716x.jpg
African prophecy told us that Obama would come to the world and lead it out of darkness. Obama correctly identified
this evidence of the prophecy
.

...
Serving as Mr. Obama's guide in Giza was Dr. Zahi Hawass, Secretary-General of Egypt's Supreme Council of Antiquities. He led the way in and around the pyramids and the Sphinx, including a visit to the Tomb of Qar, who Hawass described as a well-known priest, scholar and judge in ancient Egypt. On the wall were hieroglyphs of Qar, primitive images engraved in the stone. He was a thin man man with big ears.
"That looks like me!" exclaimed President Obama. "Look at those ears."

An image of the hieroglyph:
(CBS)
The president summoned to his top aides to take a look, and repeated his observation about the Qar hieroglyph.
"Look, that's me," he told them. None of his senior staff was willing to disagree with the boss. Chief of Staff Rahm Emanuel smiled politely, if not knowingly.
Actually, the graven image bore more of a resemblance to Mr. Spock of "Star Trek" fame. Wasn't there an episode where the crew of the Enterprise went back in time to the Egypt of the Pharoahs? If there wasn't, there should have been. That might have explained a hieroglyph of Spock on the wall of an ancient tomb.
Maybe President Obama went back in time.
That'd be a good scenario for a pitch meeting in Hollywood.

Commissarka Pinkie

Gotta love those options, Maksim!
Quote:
Nut and the other Gods taught the original Africans the ways of the universe. They traveled to the stars and often visited the Moon in order to study the Earth from space. From the Moon, these Africans were able to create highly detailed maps of the Earth which enabled them to explore the world by sail.

In 1969 the white man discovered this historical truth linking Africa's glorious past to the Moon. They do not want this information or any proof of it to be discovered or studied or even seen. Subsequent visits to the Moon were intended to erase the evidence but the effort was deemed to costly and the white man decided to stop visiting the Moon.
Fair enough, but if the Africans attained so much more inner and outer brilliance than the white man, then how come THEY don't go to the moon anymore?
And as for David Tsotsi Kasumali, I do believe he's a twin of
Andrew Yu-Jen Wang
and they were separated at birth.
In fact, this is the most hilarious blog I've seen since Wang's HBOpus. For 100% Infidel:
As everyone in the Collective is aware, it takes great effort to amuse Pinkie.

The Red Terror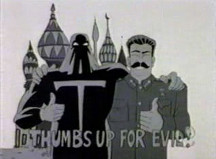 Commissarka, I am honored. Not just for the beet, but for the fact that you didn't beat me down with your shovel.
Karakter™/
For yuks, i went over to Andrew yu jen whoevers page. Wow. You think he's obsessed at all?
/Karakter™
Edited to add more Truth™
And, as usual, Dear Leader was right. That picture does look like him!

Beelzebob Brown

And this site is not some fringe minority corner of the blogosphere, oh no. The purveyor if this New Truth states...

...My work for the Obama administration, the University and my travels and research leave me with little time for other pursuits...

Yes, it is like a flash of clarity to be told that Africans really traveled to the moon and came from superior star beings, along with the reminder of those most synonymous of two words:- white/racist. Naturally, as Greens Leader of Oz Straya I have long admitted that my whiteness makes me racist, but my commitment to force others to wallow in perpetual guilt and self-loathing exonerates me.

AND, in true progressive revelation, I realised that the ONLY way the neocons can refute this New Truth (apart from pointing out the sheer, tribally lunatic and batsh*t craziness of the whole general premise) is to SUGGEST THE MOON LANDING WAS A HOAX.

It's a win-win situation for progressives everywhere, really.


Room 101

Commissarka Pinkie
Gotta love those options, Maksim!

Fair enough, but if the Africans attained so much more inner and outer brilliance than the white man, then how come THEY don't go to the moon anymore?

We have advanced so far in White Amerikkka. Why don't we go to the moon anymore? Maybe, because we never did? Now where the heck did I put those moon tapes? Never mind all that, I'll just numb my brain like I used to in good ole '69. I'm jaded too, Pinkie and I find the game below to be especially entertaining. Seems like I heard these phrases a lot last night on TV when The One the ancients predicted was speaking. Gee, I could have won a helluvalotta of BINGOs if I could have only figured out where I put the dried beans.