Red Rooster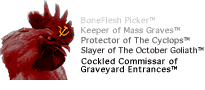 Comrades, Glorious People of The Cube... it occurred to me recently that I was unable to adore the KKKapitalist Amerikan Flag (spit!). So I went on a search to find the proper way to appear to be one with his O'linesses New Agenda(TM). Comrade Moore obliged to show me the proper adoration of the KKKapitalist Amerikan Flag. And now comrades, I am much better prole because of it!

I suggest all comrades take lessons now! The day is upon us when we must. Take heed comrades, or we shall see that you comply!

All Hail The One!

Comrade Whoopie

I know comrades, it's troubling. I wish the new regime would have adopted a new flag. But they chose to keep that ratty old candy stripe flag. (Sigh) It's so hard to salute it, it reminds me of the evil oppression of every Republican President since Jefferson. But Chairman Hussein know's best. It just creeps me out, ya know?


Red Rooster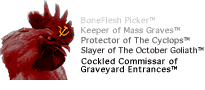 Yes Comrade Whoopi, me too. But I am learning even more from dear leaders good friend Weatherman William. He is a true patriot. Comrades on ProgTube have told me so. He has shown us all what it means to be a good socprog: