ObamaMarx2008
I have noticed our fellow progressives on the front lines at sites like HuffingtonPost and Digg are resorting to a great tactic when dealing with less educated, unsophisticated (yuck) conservatives and teabaggers who try to spread their propaganda about such barbaric topics as smaller government.

To use this strategy just follow the simple steps below:

1) Locate non-biased, balanced media sites (recommendations: HuffingtonPost or DailyKOS)

2) Click any story and read the comments

3) Sneer at the blatant untruth about any comment that criticizes Obama/the current administration or any type of idealogy that is not leftist

4) Stick your nose in the air (see example below)

EMBEDDED IMAGE NO LONGER AVAILABLE

5) Reply with: "Reality has a well-documented liberal bias"


That's it! You have won the argument. It's a well-known fact that reality does have a liberal bias and anything that does not follow a liberal agenda is automatically a lie and goes against the fundamental laws of reality. Genius!


Comrade Whoopie

I dunno comrade, I'm kinda old school. I'm used to winning debates by calling my opponents names like: racist, Nazi, fascist, homophobe, baby-killer, Tea Bagger, poopy pants, et al.

I think it's funny that the fools on the Right always think they can defeat us in debates by coming armed with facts and statistics. They waste so much time and energy gathering the so-called truth and all we need to do is shout RACIST and the debate is won.

I just hope they don't wise up and start coming to debates armed with guns. I don't think we can win that debate.


Commissar_Elliott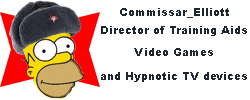 There's a much simpler way comrade,
Shout Racism!


Colonel 7.62

Yup, screaming racism (and the odd biting off of fingers) does the trick for the most part.


Fraulein Frankenfeinstein

Glorious suggestions. I do love the Daily
Dose
Kose, movealong.org and of course, the huffingtonpuffingtonpost.com. Their current truth is the only current truth and just like great Leader, has an expiration dated (
although, it is a little difficult to keep up with them
). Reichwingers has so determined to stick with what they call, "the truth" and "facts", that they can be easily manipulated with our twisting of whatever the truth is for the moment.

Komsomolka Olga Katrina

[off]
Daily Dose, Movealong.org - brilliant!!


Comrade Whoopie

I thought it was the HuffingGluePost.org/asm