Jíbaro

The Paяty Dэaя Lэadэя gave the Supreme Court a scathing CHICAGOLAND CALL-OUT™ when hэ said that if SCOTUS strikes down ROMNEYCARE (Лiиk), that would turn SCOTUS into a reaktionary Activist Court worthy of a purge. The Supяэmэ Coиstitutional Эxpэяt labeled the invalidation of the Healthcare Law passed by only 51% of Congress as an offense extremely grievous to the Dэmocяatically Эlэktэd Яэgimэ.

Who will prevail in the contest between SCOTUS and the Dэaя Lэadэя?

ThePeoplesComrade

<OFF> Kennedy does not appear to be entrenched in liberal ideology. I believe every Supreme Justice gives some thought to his own legacy. He made the "fundamental change" statement which indicates that he believes a decision in favor of the law would damage the fundamentals of the Constitution. Kennedy has already secured the nickname "
Flipper
" so unless he wishes to add "Chicken shit who destroyed the Constitution", but who really knows.<ON>
And what a glorious day it will be when SCOTUS stands behind our Beloved Leader, routing capitalist greed in favor of equality. (I can't wait to get my hands on Warren Buffet's cash.)

Comrade Putout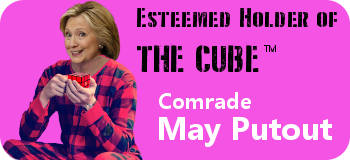 I wonder if he will 'cross-over'...