Kommissar Brainiac

Saw this on the newsstand today and couldn't resist. There are some great articles but my favorite was Che's Decorating Tips where he shows us how to build a molten rock garden.
For those of you worrying about Hugo, they say he is settling in and is doing just fine but he says the smell is not what he expected, nothing like W's aftershave at the UN. He has reportedly been trying to persuade Satan to help battle the USA, but the Devil told him "You're not El Presidente any more, so bugger off!"
When Hugo asked if he could meet Uncle Joe, Satan said "He is busy writing apologies to everyone he ordered killed but the paper keeps catching fire, so he is going to be busy for a while. Besides,what's the hurry? It's not like you are going to wait forever." Satan added "If it feels like eternity, just remember, it is."
This is really too great a topic to let die.

Opiate of the People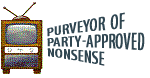 Comrade Homer Simpson's ironic punishment was to eat endless amounts of donuts...




R.O.C.K. in the USSA

Captain Craptek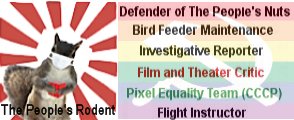 Chavez: "Beet vodka - on the rocks please."


ThePeoplesComrade

Piers shows unique grasp of the issue. Are there any guns down there?

Dig4Utopia

I wanna believe El Comandante is in a better place.
THE CUBE

-

we bring the "Revolucion" to life


Comrade PC - When you have Sheryl Crow in your Gulag - you learn to do more with less.


http://www.blumentals.net/egifan/
http://www.online-image-editor.com/
http://benderconverter.com/

ThePeoplesComrade

Comrade Dig, you do liven things up and you only use the allotted 256k of the people's bandwidth. How do you do it? I am nominating you for the Karl Marx "Fun Yet Frugal" award.


Moose-ylvania Operative

Komisar Brainiac, as deviously brilliant as ever!