Comradette Anne

The Motherland has often warned us through their clever agitprops of the dominantly overweight species of kapitalists and their ability to crush the poor under their massive weight. Their top-hats, canes, and moneybags pose a threat to the People this day. Unfortunately, one of these creatures rules with free-market fascism and negligence over the state of New Jersey. In the name of the collective and all things progressive, I denounce him!
That's no moon, comrades, that's Chris Christie!
It's not that the man has no neck, he has nothing but this kind of upside-down lightbulb shape to him, just as the posters of long past have warned of his kind.
Do not let the picture fool you, as you
wouldn't photograph a portrait of him in a regular stance; you'd have to take a landscape instead.
He has replaced the well-meaning likes of John Corzine, who has benefited the teachers union, not only For the Children™, but for The Greater Good™. Even Dear Leader recognized this and campaigned for Corzine to continue serving the masses. Alas, New Jerseyites have betrayed their camaraderie and elected the kapitalist karaciture whose frequent presence in our posters have alluded them. The erroneous creature that is Chris Christie has wiped the Jerseyite educators' well-earned entitlements away as swiftly as crumbs from his lips.
How can the children learn if teachers do not spend their time playing solitaire on the school-funded Apples and Self Esteem Studies classes?
Don't believe my testimony? Feast your eyes on the forewarnings of past agitprops made flesh:
http://www.eyeblast.tv/public/checker.aspx?v=hdkUuz8zSU
http://www.eyeblast.tv/public/video.aspx?v=hd6UprkUaG
http://www.eyeblast.tv/public/video.aspx?v=hdSUSUnzVr
http://www.youtube.com/watch?v=j2PwEQGC ... r_embedded
Sure, he advocates the grabbing of guns of the bitter clingers, but as evidenced by this latest action, I am not so sure:
http://hotair.com/archives/2010/12/20/c ... an-aitken/
. His focus, however, concentrates on a non-existent debt and cutting corners Against the Children by defunding the People's unions of what they justly deserve. Is he just an idiot (which is rather redundant for a Repugnicant)? Has the man no heart above that gut?
His latest sin in not just Against the Children, but Against the People as well:
http://www.eyeblast.tv/public/video.aspx?v=hd6UkUSUaG
Is he indifferent to the crisis of global warming causing the Nor'easters across the Northeast before he coasted off on vacation? The rising of sea levels not only comes from the warming that causes such storms, but because Christie took a dip and accidentally left his lunch there. But fear not, our fellow progs plan to put a stop to Christie carelessly throwing his weight around:
http://hosted.ap.org/dynamic/stories/U/ ... SECTION=US
They have helped comrade Olbermann in the past, and are an offshoot of an organization for Darth Soros as well.
http://www.sourcewatch.org/index.php?ti ... _Committee
He says he will not challenge Dear Leader, but can we trust such a perfect example of the devolved kapitalist species?

Comrade Whoopie

Time's running out for Capitalism...tick, tock, tick tock

General Confusion

Comradette Ann,

Welcome to the Cube and thank you for posting a mostly astute article. A major shortcoming of your article was not criticizing his fashion sense, or lack of it, for wearing that pathetic tie.
Only a career loser would even consider that combo for public display.

It could be evidence of recent brain surgery.


Red Rooster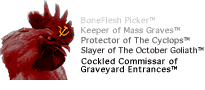 Ham hock and black eyed peas is all I see. Put him in the collective cooker...


Colonel 7.62

Comrade Whoopie, a most glorious image. Would you care to be issued such a clock for your Dacha? (You must provide your own capitalist pig though)