Father Prog Theocritus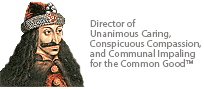 I proudly proclaim to the world that I am a progressive. And that means I never have to say I'm sorry. Nothing is ever my fault. I'm purer than the driven slush. I feel good about myself and I expect you to toe the line.

I can do what I want because my thoughts are pure. I can say what I want because my intentions are pure. And if something goes wrong, I've spent my entire life unlinking actions from consequences. Work? Why? Be moral? Why? I'm pure goddamn it, because I'm a progressive. Out with the old stuff--all that responsibility, all that shame, all that you know caring about what you do. And in with the new stuff. Entitlement, resentment, and a high level of getting pissed off.

So on this New Year I proudly announce my Progressivism. And no matter what happens, no matter who relies on what I say, no matter what people do based on what I say, I do not have to say I'm sorry.

For I am a progressive.

And that means I get a free pass.

Don't you wish you thought of this first?


Sir Red Star(The Naughty)

Thank you for the New Year blessing Kind and Generous Leader. Yes now that we are in the world of Next Tuesday things will be A OK. We were watching the Peoples Television last Night and observed the great ones, Billy Bob Klinton, and the Multi-titted empress pushing the switch to drop the ball in Times Square. We were stunned.

Some of my Goons were so taken they went in to the New Years party next door, appeared to be thrown by the AARP. They started slam dancing with the elderly people some had to be taken away in ambulances. But the important thing was that they had fun.


Comrade Whoopie

And to think comrades, it was false guilt and self criticism that brought us to this enlightened state of being.

"I have low self esteem. I admit it. And that's what makes me better than everyone else"


Opiate of the People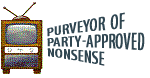 Commissar, your inpsiring words have brought a tear to my eye and a fresh round to my chamber. I was so moved, I wrote down these words:

I'm A True Progressive Hero
(sung to the tune of the reactionary imperialist "I'm A Yankee Doodle Dandy")

I'm true progressive hero,
I believe the state is god!
A real live nephew of my Uncle Karl
Burying state enemies in the sod.

I've a true progressive partner
She(he) shoots capitalists for our cause!
Comrade Stalin came to town,
His tank mowing down imperialists,
We are the proud progressive hordes!


Commissar M

Even better, by being Progressive, all of your alleged "sins" are not simply forgiven and forgotten but actually foisted upon your opposition. And with a simple language change, Progressives can continue to pursue their goals. "Separate but equal" is evil right-wing racism but "Multiculturalism" is the height of leftist caring. For gits and shiggles, I'm hoping to live long enough to see Global Warming turned in to a right wing conspiracy.
On another (supposedly non-political) message board I visit, a fellow member recently offered her appreciation of Prog icon Margaret Sanger. This is the sort of board where mentioning
any
person affiliated with the political right will cause a screaming shit-fit meltdown amongst the moron majority. However, offering uncritical praise of a woman who was an overt racist and eugenicist (not to mention staunchly anti-abortion) doesn't even register a tremor. In fact, if anyone had been so callous as to point out Saint Margaret's actual record, that person would've been subjected to one of those aforementioned screaming shit-fits.

Father Prog Theocritus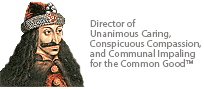 I am spending my last night in California and just could not get far enough north to San Francisco to see the $15M pet motel. Each dog has its own room with a television. If you adopt a dog with a medical problem you will be reimbursed the pet's medical expenses.

But if you are protesting at an abortion clinic, the police can use choke holds on you. Now that's progressive.

And yes indeed if you are a progressive all your sins somehow find their way on your opponents. When we heard our Many Titted Empress accuse the right of something we knew that she was just about to do it.

Opiate, I'm glad to see you reclaiming that song from the George Cohan story. After all, Jimmy Cagny was a reactionary and not to be trusted, as we love and trust Susan Sarandon and Johnny Depp.


Comrade_Tovarich

Comrade Theocritus,
You have made good points (your title considered, pun intended). However, since you are frolicking (as you deserve) in the Democratic People's Republic of California, you're probably not currently reading and re-reading, and re-re-reading the
New York Times
with its invaluable Paul Krugman columns as devotedly as I, rocking forward and back in my progressive
madrasssah
as I memorize each syllable of Truth. The
LA Times
is indeed journalistically equal, but the
NY Times
is the equalest. Thus I might have you temporarily edged out on progressiveness.
Why, I'll even throw in
a Paul Krugman quote
from 14 September 2007. Of course, it is seared,
seared
in my memory and tattooed on my right forearm too, but allow me to share it in recycled electrons with all our comrades:
Quote:
The smart money, then, knows that the surge has failed, that the war is lost, and that Iraq is going the way of Yugoslavia. And I suspect that most people in the Bush administration - maybe even Mr. Bush himself - know this, too.

Father Prog Theocritus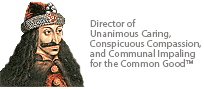 Ah, yes. Dear Professor Kurgman.

The Romans had communal lavatories with benches with holes. And to clean themselves they uses a sponge on a stick. Now we know where "getting the wrong end of the stick" comes from.

The dear Professor is the master of that.


Comrade_Tovarich

My mind is crowded with Kurgmanpalooza, so some things might have been pushed aside, but I believe the People's Nobel Laureate called a recession every year of the Bu$hitler regime. Yes, they have been 8 years of hell that an impeachment could have euthanized, but from January 20 on, it will be nice to know recessions will become impossible (at least for 4 years).


Father Prog Theocritus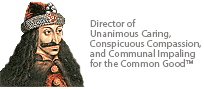 Tovarich, I detect a problem. If the NYT folds, who will feed Kurgman? He is the premier species of Chiroptera Lunae (moonbat), and therefore would be an endangered species. It is not enough to see that he has wine-and-cheese parties and regular Bush hate-ins in Manhattan. To ensure his survival, we have to order things to please him or he will not have a voice.

So the only way to insure the survival of Chrirptera Lunae is to have endless Republican administrations.

Or tie him in a room and read him Ayn Rand and Friedrich von Hayek. His eyes would roll in his head, which would twist 360 degrees and he's projectile vomit green pea soup.


Cradle to Grave Marxist

Progressives do say sorry. They apologize for the historical actions of their country.


Comrade_Tovarich

Comrade Commissar Theocritus,

You do have a point. It's a bit like "I'm not sitting next to grampa! He smells funny!"

Then again, where the Catholic church has its manifold saints, so does the Progressive world. Since The Doctor has his dedicated followers, surely some of them would be more than able to really do justice, social justice, to the term "lickspittle" in regards to caring for PK, PhD.

Being barely human (i.e., almost divinely progressive) he might have a flaw along the lines of, "Clean up my puke, kid, or your dissertation and 8 years of life are toast."


Father Prog Theocritus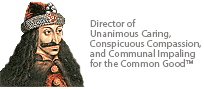 What frightens me is how often a professor makes his reputation on the work done by his graduate students, standing as the coping stone on the pyramid.

Consider what the blocks underneath are.