Opiate of the People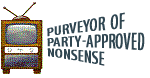 Rahmco is proud to announce Guilt-Less the first political malpractice insurance for unlucky and out-of-favor proles and party members.

Imagine the scene: it's the middle of the night and you are sleeping on your horsehair futon with your significant other by your side. Suddenly, the dreaded knock on your door. You answer and it is the Thought Police: "Comrade Ferraro, please come with us, we have some anonymous charges you need to answer for." You get into the van and are dragged down to Party HQ to find yourself the subject of a well-orchestrated show trial:

Prosecutor: Comrade Ferraro, have you stopped being a RAAACIST?
Ferraro: No, I mean, I never was a....
Judge: Aha! A confession! Twenty years in the gulag!

Too bad Comrade Ferraro didn't have a Guilt-Less political insurance policy. If she had taken out a policy and kept up her affordable weekly premium payments, a record would have been kept of her consistent loyalty to the Party her country which would have been presented to the judge before sentencing. Depending on the size of the policy she subscribed to (million dollar increments up to ONE TRILLION DOLLARS!) she might've escaped with substantially LESS gulag time or EVEN RECEIVED A SUSPENDED SENTENCE! What's more, if she had received time in the gulag, her family would have been informed where she was going so they would not have sold all her earthly possessions to survive. And, her family would have been provided with a convincing official excuse for her absence which would enable them to avoid the hatred and violent anger of their neighbors! THAT'S the kind of protection all comrades can expect from Guilt-Less!

Comrades, Guilt-Less is NOT a legal service which is basically of no use in the corrupt crony capitalist state we have now become. Guilt-Less is NOT a traditional Chicago-style protection racket where you have to pay Party members man-made disaster makers NOT to burn down your house. Guilt-Less is much more than that: it is a prepaid totally legal system of bribes which will curry favor for you with corrupt officials should you ever need it. Guilt-Less does NOT absolve you of guilt, for that is not possible once you have become targeted for destruction by some official agency. What Guilt-Less DOES do is ameliorate your punishment so that you can perhaps survive the disaster; hence the name is Guilt-Less, not Guiltless.

In today's crypto-totalitarian socialist Amerikka, you can't afford to be without the protection of Guilt-Less. Why not call the friendly goons organizers down at Rahmco today and get a free quote? There will be SOME obligation when you call (we're not doing this for our health, stupid) and no salesman will call but a couple of thugs might. DON'T WIND UP UNDER THE BUS WITHOUT A JACK! CALL TODAY!

Some Testimonials from Our Friends:

Guilt-Less made the difference between spending our bonuses in peace and getting chased down the street by a "spontaneous" populist mob like the AIG guys.
- Banker, Goldman Sachs

If I had a Guilt-Less policy, I'd be playing football with my kids now instead of dodging tax collectors.
- Joe the Plumber

Guilt-Less is GREAT! When I think of all the stuff I've done to merit official reprimand, I should be making license plates at Joliet right now. But instead I'm still riding in Obama's bus, NOT under it!
- Joe (last name withheld)

Amerikka is a great country! Thanks to Guilt-Less, I'm gonna see NEW YORK CITY!
- Khalid Sheikh Mohammed

The weekly cost of Guilt-Less is very reasonable when compared to the cost of having your mug air-brushed out of thousands of official photos.
- Leon Trotsky


Proletarian Robot

Comrades:

"If I had kept up on my Guilt-Less Policy payments I would be under house arrest and not in prison.....or at the very least it would have paid for my soon to be needed proctologist!!""
--Rod Blagojevich


"Please do not confuse the amazing Guilt-Less Policy with Obama's Gut-Less Amercian Foreign Policy"
---Rahm Emanuel.


Leninka

This is great. If Guilt-less insurance were mandatory, like they want to make Health Care Insurance, then we all could commit whatever crimes we wished, and just think how much money that would save all governments, federal and local from having to incarcerate people. And all the bribes would fuel an economic recovery. It's a win win all the way around.


Fraulein Frankenfeinstein

"Ferraro: No, I mean, I never was a....
Judge: Aha! A confession! Twenty years in the gulag! "
THAT is exactly what happened to me! I wish I had had Guilt-less Insurance. I'll sell all my daily vodka rations to be among the Guilt-less collective. There's nothing like a bribesincentives, to ensure the right thinking of our comrade judges. Just ask comrade Dodd and Frankenski!

Opiate of the People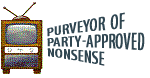 Comrade Robot, I hope YOUR Guilt-Less policy is paid up or you may find yourself recycled into a Chevy Malibu waiting for Howie Long to drive you someplace. NO ONE is permitted to put words in Comrade Rahm's mouth especially if they are truthful ones. For one thing, the process itself is fraught with peril; if he accidentally bites you, his saliva is like that of a komodo drgaon and infects the victim with legions of Party bacteria which attack the cerebrum and the wallet. And this icky solution is also corrosive to metal parts.

Comrade Leninka, mandantory universal purchase of Guilt-Less policies is an excellent idea. We'll have to round up a few hundred billion more to bribe persuade Ben Nelson, Bernie Sanders and Mary Landrieu to vote for it but at this point in our economic destruction history, that sum is close to becoming petty cash. Anyway, the Party may have a job for you in the Department of Economic Fantasy Planning. As a pre-qualification question, I have to ask: do you pay your income tax? Too bad, because nobody else in the government does.

Fraulein Pulloskies, I don't know how you found out about Dodd and Smalley as all Guilt-Less policy applications are confidential unless you bribe the right people with enough money. But since you have this data, I must clarify this for you: Dodd does have a policy and a very big one at that. How big? Let me just say that Bernie Madoff was offered the same size policy but decided to skimp on coverage and now regrets it. 'Nuff said. As for Comrade Franken, he also has a policy but is not cashing in on it yet as his star is currently in favor with the Central Committee. You see, he is the closest thing we have to "funny" in our ranks (he is the biggest joke to hit Washington in ages.) Among those who are intentionally trying to be funny, that is. And Comrade Senator Smalley is definitely trying to be funny. We think.


Fraulein Frankenfeinstein

[quote="Opiate of the People"]
Fraulein Pulloskies, I don't know how you found out about Dodd and Smalley as all Guilt-Less policy applications are confidential
unless you bribe the right people with enough money.
But since you have this data,[quote]
DATA! I HAVE NO DATA!
I think no thoughts!, I speak no words! I do no deeds not approved by the great Obamskie!
If anyone thought I was saying I had a thought or date . . . please accept my humble apologies!!

Proletarian Robot

Comrade Opiate:

Now you have me a little concerned. My "Golden Parachute" policy is active. It theorectically functions much like Van Jones', Tom Daschle's and Al Gores' so when I am done screwing up or ripping off the government successfully completing my term, I float into a much higher paying job which I lack any possible qualifications for or competence in where I work until I retire.

What is the difference bewteen a "Golden Parachute" policy and the party approved "Guilt-Less Policy?" Should I have both?

Also is the "Guilt-Less" policy like universal life where you get money back if you don't need it? I am of course referencing to Senator Robert Byrd who no matter how much he f*cked up during his 56 year career never seemed to have used it.

Thank you for your kind consideration.


Opiate of the People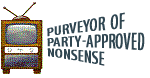 Comrade Robot, unfortunately there is NO protection for anyone who crosses the Collective Borg, no matter how many insurance policies they buy. Witness the sad story of the former comrades at Hillbuzz who, like the fabled expatriate Trotsky, decided to do something stupid and "think for themselves" and support the Rethuglican Brown because "it was best for the country" or some such crap:
Quote:
We believed Brown would actually read legislation before voting on it. Even more refreshing than that, we knew Brown would think for himself and would not just do what Harry Reid told him to do — especially not with something that will raise taxes, decrease access to medical care, bankrupt many doctors and hospitals, and cut Medicare benefits to millions.
~
Scott Brown was elected to the United States Senate on January 19th, 2010 — to rapturous cheers here at Buzzquarters in Chicago, and around the country.

On January 20th, the Left decided to escalate their usual attacks on us, this time personally outing one of us, calling him a racist, and advocating for the destruction of his personal and professional life.

It seems they were so upset Brown won "The Kennedy Seat" that they moved quickly to punish anyone they felt had in any way contributed to that stunning win: and we became a target.

http://hillbuzz.org/2010/01/25/can-trolls-and-puma-hunters-be-tracked-back-to-the-dnc-and-organizing-for-america-themselves/

Read the rest if you dare. It serves as a cautionary tale for those who step out of line and join the forces of evil. Comrade Stalin would be proud of our soldiers who attacked the traitors at Hillbuzz.
Left-wing thugs doing what they usually do when things go against them. The Left believes in "diversity": people of all races, colors, creeds and sexual orientations coming together to do what they're told. Or else.