Commodore Snoogie Woogums
Comrades,
I ran across this during the daily propaganda analysis of our news organs and must say this is a prime example of our propaganda efforts in actual action. It shows that even given the simplest of instructions that the Tea Party is incapable of even doing a basic high school level education tasking as a simple book report. Furthermore it demonstrates just plain shiftlessness and laziness in the actual effort to comply with the instructions our benevolent IRS had requested from this individual and her tea party book group. In short, our propaganda continues to portray that the Tea party is composed of low I.Q dolts who are just lazy and pathetic cheaters to boot.
From ABC news:
When Marion Bower decided to start her tea party organization in 2010, she didn't know that it would take nearly two years for the Internal Revenue Service to approve her request for tax-exempt status.
The Ohio woman also did not expect that providing information about the books her group read would be part of the application process.
"I was trying to be very cordial, but they wanted copies of unbelievable things," Bower told ABC News today. "They wanted to know what materials we had discussed at any of our book studies."
She ultimately sent one of the books, "The Five Thousand Year Leap," promoted frequently by Glenn Beck, to the IRS official handling her tax-exempt request in Cincinnati.
She also sent a paperback copy of the Constitution.
"They wanted a synopsis of all the books we read," Bower said. "I thought, I don't have time to write a book report.
You can read them for yourselves.
"
Bower, 68, said she did not want to cause trouble or be argumentative with the IRS, so she patiently responded to their questions about her group, American Patriots against Government Excess.
http://abcnews.go.com/blogs/politics/20 ... stitution/
Searching the net we have found a possible but as yet unconfirmed photo of this so called American Patriots against Government Excess Tea Party 'reading group'.
Ms. Bower you are a true American
HERO
..................Reading a story like this makes me proud to be an patriotic American and that we still have individuals like Ms. Bower in the country. I'm actually a bit shocked that ABC would even print it.
Where is Paul Ryan when you really do need a 68 year old granny to be thrown off the cliff?

Sugar Daddy Bear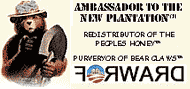 Quote:
Where is Paul Ryan when you really do need a 68 year old granny to be thrown off the cliff? 
Where is that orange-skinned guy to help?

Comrade Pistov
This just in. EPA grants waivers to college activists planning to burn Ayn Rand novels.