Captain Craptek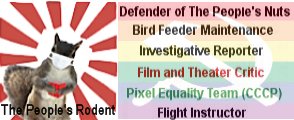 WASHINGTON: Jesse Jackson to spend a few months in an Alabama Camp for "
a serious mental health condition
" Jackson's lawyer Reid Weingarten said. Jackson was found guilty of "
misspending
" $750,000 from his campaign fund. His wife, Sandi, a former Chicago alderman, is expected to be sentenced within minutes on a related charge. The couple are planning a second honeymoon during their visit to the camp.
The Jacksons, both Democrats, pleaded guilty in February after a years-long spending spree with campaign funds. Among the loot: a $43,000 Rolex watch, furs, vacations, two mounted elk heads and memorabilia ranging from a Michael Jackson fedora to an Eddie Van Halen guitar. Jackson agreed to return the watch, furs, and elk heads along with the Michael Jackson fedora, but requested ownership of the Van Halen guitar be transferred to "R.O.C.K. In The USSA" - an obscure character known to inhabit TPC.

Fraulein Frankenfeinstein

ah yes, I remember this vacation . . . . . ah yes, this is the sort of vacation dear leader should be hav...... oh my, that looks interesting!


R.O.C.K. in the USSA
I have never owned a Strat. 'Bout time.


Captain Craptek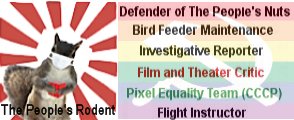 Comrade ROCK,

I thought that Jesse's "gift" might get your attention.


Ivan Betinov

Wait a minute, Comrade. You have a typo, and somebody in the editing department used the wrong photo. Jesse Jackson Jr. is a Republican, not a Democrat, and he is a caucasian. (Always remember to fact-check the facts against the acceptable narrative.)


R.O.C.K. in the USSA
More important is: What is the Current Truth?


trashmouth

Comrades, let us not forget the wonderful work of Jackson's attorneys who named their first choices for where the
crook
man might spend his time behind bars. First choice: the Federal Prison Camp in Montgomery, Ala or the Federal Correctional Institution at Buter, North Carolina. Both made the top 10 in a 2009 Forbes list of the country's cushiest federal prisons.
The Montgomery facility is "excellent," according to defense attorney and expert on federal prisons Alan Ellis. Butner is "an attractive place; well-run, well-managed," he said. If Jackson is placed in a cell at Butner, he will be on the same compound as white-collar criminal Bernie Madoff, who is prisoner 61727-054 in the federal system. All the of the buildings on the compound are named after Atlantic Coast Conference schools, and the prison is about an hour drive from Jackson's alma mater, North Carolina A&T.
Yes, he will be serving with pride, check please!