Ras-Putin

Rarely comrades does an opportunity knock so loudly, and at the backdoor no less. While suffereing the indignities ( a pain in the ass - there, I said it) of a routine medical proceedure. A startling discovery was made, yes while plying the expanses of Ms. Couric's nether regions, the birthplace of Bill Maher was discovered.
The best party doctors were baffled by the first confirmed case of rectal conception.


General Confusion

Yes,
There must be a logical reason for his asymmetrical reasoning, S-F-B would go a long way to explain this behavioral abnormality.


Sugar Daddy Bear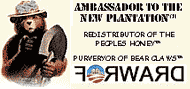 I wonder if they came across Mzz Couric's brain while they were looking for things down there.


Reiuxcat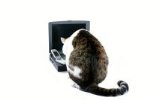 So that's where Bawney Fwanks lost his last gerbil.


Proletarian Robot

Comrade Ras-Putin: There is a "misconception" in the collective that taking the dirt road is generally safer because "ass babies never live." Bill Maher is not the first recorded case as the hind end is the birth place of Biden, Olbermann, Matthews, Shutlz and it is rumored dear leader himself. This is why this "alternative" form of procreation is being experimented with on a larger scale using our military. The upper party officials are waiting to see if any more radical free thinking progressives can be produced using this method.


Father Prog Theocritus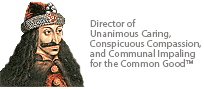 Comrades, now the cat is out of the bag. Or the turd is out of the Couric--bear in mind the time that Randy Marsh in South Park won the world record for the biggest turd--and the weight of a turd is measured in Courics.

Come to think of it, the one that he delivered himself of did look a lot like Ms. Couric's jaw. Or her haunch. I can never recall. After all, once I entered by accident the suite I accord to our Many Titted Empress while at the Rancho and she was, er, au naturelle and for a month I had hysterical blindness. Even now at the thought the world swims before my eyes.


Father Prog Theocritus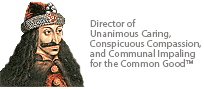 Whinny, Ms. Couric has no brain. She relies entirely on her Superheterodyne, Phased-antenna-array Tin-foil Hat to receive the Current Truth. Her brain was vacuumed out by successive and very successful Jiffy-Lobo treatments some while ago.

In fact, she was the reason that I hired DuPont to improve on Jiffy-Lobo. No one could believe the stupid stuff she was saying if he thought that she had a brain so DuPont developed a method of cleaning out a brain pan using boiling naphtha followed by aqua regia. Then 3M developed a special carborundum solution which we used to sand blast her brain pan.

All during this time she kept talking and complaining that her hair dresser didn't get a first-class airplane ticket.

Finally, I used a Hasselblad 30 megapixel camera for a normal view and a tunneling electron microscope for a macro view, and proved to the satisfaction of everyone that Katie Couric has nothing that even her mother could call a brain.

So she's a reliable progressive until an earwig crawls into her head, and raises her IQ to the point of sentience.

So we have to start over.


Fraulein Frankenfeinstein

"baffled"??? How could that be? Does not everyone not that in proud Prog (and aren't we all) extracted from the someone nether regions? Was not Billy the special one, to receive such fine accommodations!
gerbil? Did someone lose his gerbil!!
K A T I E!!

Father Prog Theocritus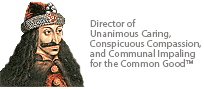 Fraulein, let us always respect things extracted from a prog's nether regions. Obamathantology was extracted out of Nanski Peloski's ass.

"Pass it and you'll be the second body to pass it. And you'll know what's in it. I always examine my turds. It's called constituent service."


Sugar Daddy Bear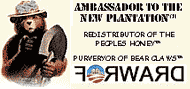 Father Prog,

That would explain much about the "perky one"... and that nickname didn't come from certain female anatomical parts either. But if the abscence of a brain can be traced to the many excuses that are Katy Couric, then I wouldn't even want to venture into the Twilight Zone of reality imagining the frightening 'what ifs' if she actually had one. Thank STALIN for Jiffy-Lobo™!

I wasn't aware Katy Couric even had a mother. Maybe that's what they mean by a "new development". And I am surprised that the Anti-Cruelty Society wouldn't step in and get involved on behalf of that poor earwig!


Opiate of the People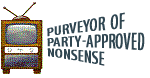 Ras-Putin
The best party doctors were baffled by the first confirmed case of rectal conception.
I'm told that the traditional sperm and egg were not involved either. Just pure sh--. In other words, a born progressive.

Grigori E.R.

Father Prog Theocritus,
I thought you had the Couric Head on display at the Rancho. Did you give it back?

Back in the 19th Century I knew an old Kabbalist who could create small creatures to do his bidding. A little human dung, some blood, lots of mud, a few incantations and presto. The darn things were hard to control though and they talked incessantly.


Father Prog Theocritus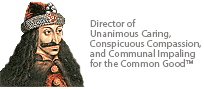 I see, Rasputin, that you have been reading the old notes in which dear Sister Massively Opiated had urged, insisted, that I get rid of the Couric head.

Here is the truth. I don't need a Couric head unless I'm trying to preserve something which will deliquesce, say a body. Like Lenin's body, you know. If the Supreme Soviet had had a Couric head, they wouldn't have needed all the formaldehyde pumps for Dear Vlad. Lenin.

The Couric head would have attracted all the flies, which would lay the maggots. Also it would attract all the other vermin.

Recall that my difficulty was that the Couric head was keeping the flies off the turds in the cats' box and that was just unnatural.

So it doesn't have to be a Couric head. It could be a Schumer head for example.

But please dear Stalin not the head of our Many Titted Empress. Do you know how hard it is to keep the flies out of her open mouth when she passes out on the floor of the Rancho, drunk on Bloody Marys made with rich, white, RethugliKKKan virgin blood?

I mean, the flies do absolute dive bombing. They're flies so they don't get that it's kamikaze flying, though. Once a fly gets within the Event Horizon which is the ass of our MTE, the fly is a goner. We seem to see that the fly as it enters the Event Horizon seems to slow and slow and the fly notices nothing.

Ah well, that's the trouble with having a Secretary of State whose ginormous ass makes its own Event Horizon. And you know that that always means that a black hole is not far away.