ThePeoplesComrade

Hawaii has been competing and appealing to be the home of President Obama's
presidential library
. Now Kenya has joined the fray and argues Kenya is the more logical choice. The People ™ agree.

Colonel 7.62

I think what we need is a traveling Obama library. That way it can move through all 57 states, and Kenya. This will ensure an equal distribution of the glories of our Dear Leader.


Groucho Marxist

This will no doubt be a glorious structure with transparent glass walls so that all without can see our glorious leaders two books on the shelves.


Opiate of the People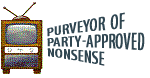 The esteemed Colonel 7.62 makes an excellent point! The Obama Presidential Bookmobile should also have amphibious capabilities so it can travel to Cuba and North Korea where it belongs so our comrades there can be inspired by him as well.