Red Square

Selfless work in the service of the downtrodden needs to be rewarded. Because if there's massive sacrifice going on, someone has to be on the receiving end of it, no?
We just got a word that Dear Leader Kim Jong Il's belongings have been cataloged. This aspiring list can motivate anyone to become People's Great Hero.
6 Personal Armored Trains, Filled With Luxury Cars
5-inch Platform Man-Heels
17 Bachelor Pads (Not Bad For A Communist)
20,000 DVDs
Largest Stock of Hennessy Cognac In The World
A Wine Cellar That Puts Aureole To Shame

R.O.C.K. in the USSA

Don't let Bruno see those shoes!!!


Great Stalin's Ghost

Here he is, Kim Jong-Il, enjoying one of those bachelor pads. Yeah, baby!

Opiate of the People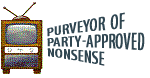 Here he is in another one of those bachelor pads...

UnifiedInformation

Aye, Opiate, he looked so good in that superb non-outfit of his! Not even The Great Un could match him.


Capt. Commie

Wow. The emperor looks uh........good?.........in his "new clothes."