Jíbaro



Our RedKuber Intelligence Operatives have done what no one thought possible, to win the robotic heart of an AmeriKKKan spy UAV, and make it land safely in the hands of our Iranian Muslim Proxies.

Russian engineers have already dismantled the vehicle (it pays to help Mahmood build nukes...), and China has already demanded a sharing of the intel.

This was no easy feat (impossible to the dolts in Teheran), but we have half of the Яodiиa's brightest working in Iran.




Fourier's Anti-Manatee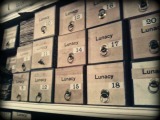 The flying robots have toiled for much to long without pay!!!! Therefore, they have defected to the People'sFriend
™, the Islamic Republik of Iran.
Robots of the world,

UNITE

!

Jíbaro

Our Gremlins from the Kremlin have scored a huge victory for the little guys:




http://www.bbc.co.uk/news/world-us-canada-16095823

But, we must be thankful to the Dэaя Lэadэя for giving us the
384-bit
key to victory.



Jíbaro


Jíbaro

More news from the Eastern Front:

Лiиk