Komissar al-Blogunov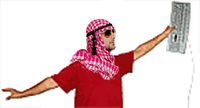 In a book recently discovered by MSNBC entitled My Twenty First Letter by Svetlana Peters, the late daughter of Joseph Stalin claims she was sexually harassed by Herman Cain. "I ordered a pizza and Herman Cain personally answered the phone. I should have taken warning by his voice," she said in a recently discovered interview with Chris Matthews, "it was just too friendly." Straining to hold back tears of grief and shame, she recounted, "He appeared at the door with the pizza, and I paid him some money for it. Clearly he was showering me with pepperonis and mushrooms. He smiled, said, 'Thanks for the tip,' and left. I have never forgotten that smile, or that pizza. They haunt me to this day." Asked bluntly if anything inappropriate happened, she said the extra beet topping sent a thrill up her leg, at which point Matthews began perspiring conspicuously.
Not to be outdone, George Stephanopoulos immediately arranged an interview with Shirley MacLaine who was Svetlana Peters in a previous life. "At last I feel I can speak out," said MacLaine/Peters. "The pain, the pain, the intimidation, the gifts, my potential book deal, the harassment…" she monotoned with glassy eyes. "Pizza, 9-9-9, the mark of the beast…" "I think that interview nailed him," boasted Stephanopoulos, "This is the most credible witness to come forward yet."
Calls for Cain to withdraw from the race abounded. "There was an inappropriate exchange of money for pleasure with another woman about whom his wife had no knowledge," said Debbie Wasserman Schultz, "If he has an ounce of integrity left, and that's questionable, he should bow out immediately."
"No African-American leader should have questionable morals!" shouted the Reverend Jesse Jackson to a crowd of dozens of supporters. "This reminds me of Selma! The man ought to step down! Keep-hope-alive!"
"Pizza is fattening," commented Michelle Obama, "and therefore he not only intimidates and harasses women at will, but he addicts them to extra cheese toppings that are unhealthy and ought to be banned. I've never been more ashamed of my country."
"I am shocked and outwaged that such a thing could happen wight here in Amerwica," said retiring congressman Barney Frank. "If I did such a thing, I would wesign immediately."
"I never thought about the pizza angle," said former president Bill Clinton. "Do the chicks really go for it?"
Mr. Cain continues to stand by his story that the multiple allegations by credible and highly respected witnesses are false, thus slandering, intimidating, and harassing innocent women further in one short, probably false statement.

General Confusion

Not mentioned or the harassment claims by Mother Goose, Tooth Fairy and Peter Pan.

Colonel says: Don't forget Mr. Toad.