Heavy Sour Crude


Red Square

Welcome to the People's Cube, comrade Crude! Love your cap! Let's hope it doesn't cause envy among other comrades who will wall want to wear equally bright red hats. I also know of one Kommisarka who is partial to this style of headgear and may take you to her hovel through the back door (so you don't have to stand in line at her front door with all the other comrades).


Lenin 'n' Things

This was exactly my thought after I heard about this book. This is someone who could not really make it professionally,and so he decided that he'd jump on
the Bash Bush Bandwagon. Seems he had a liberal epiphany in the last few months. The money doesn't hurt either,I imagine. What a stand-up guy.

Heavy Sour Crude

Thank you comrade Red Square for my People's welcome. I have not been this happy since I was a small child and watched the tanks on parade. It's good to be among comrades who share my vision of restructuring Amerika into a more socially acceptable and sensitive autonomous oblast of the greater world government.


Superkommissar Maksim

BTW: This is brillant! I love humor that forces me to look up facts (Dennis Millersques).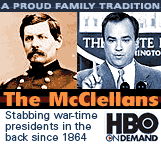 Premier Betty

I want that book....


Commissar M

Why is it that when I heard McClellan was coming out with a book whining about Bush, I was not at all surprised. His press conferences were literally too painful to watch and it never made any sense to me how this feckless crapweasel ended up as White House press secretary.
What strikes me is that, for all of Bush's unpopularity, there really haven't been many credible "tell all" books from administration insiders. Many of those were not written by people who could be described as true "loyalist". McClellan was an embarrassing failure who couldn't parlay his White House experience in to anything lucrative (seriously, would you have hired him?) and now he gets to cavort with Olbie and bask in media approval while burning the rest of his bridges. It's going to suck for him when he realizes that these people still don't like him and won't be flocking to him with job offers and such.
Then again, who knows? Maybe MSDNC will have some dead air for him to fill. Or there's always that second assistant manager job at a Sonic in Texas. Nah, never mind. Managing a Sonic takes more ability than being an on-air "personality" at MSDNC.

Navigator

Oh gawd...another wonderful lampoon!

McClellan's new book seeks to bring both political sides together in the spirit of bi-partisanship fails worse than Carter's plan to rescue 444 American hostages.


When you mix right with wrong as McClellan suggests all you get grey.

I'm all in favor of partisanship!


Commissar_Elliott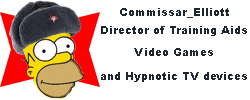 Premier Betty
I want that book....
Get two, I want one too.

Premier Betty

I'll have someone else get 3....