Comrade Whoopie

Our first significant otherling is such a slave to fashion. Look Pinkie, no boob belt either.

Opiate of the People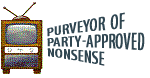 This is such an excellent creation! Not only does it flatter her benevolent beauty immensely (what?) but there is likely room for a number of homeless people to live beneath her skirt. Jonathan Swift must have had the First Lady in mind when he wrote, ""The Sight of you is good for sore Eyes."