Jíbaro

TIME
A 57-year-old man hiking in Yellowstone National Park with his wife was mauled by a mama grizzly trying to protect her cubs. Reportedly the couple had seen the bear once already on their hike without incident, but when they spotted the grizzly a second time, she was charging. Seeing the bear, the man told his wife to run before he was attacked and mauled to death.
Well, the Current-Truth-of-the-Matter™ is as follows:
An interloper got near her cubs, frazzled Momma Grizzly, and she felt obliged to put him to sleep. Park Rangers said she is free to roam.
Let this be a lesson to all of us in the
Cubэ Collэctivэ
, that approaching her cubs may be hazardous to our health.
~

General Confusion

A warning from history...there have been very few folks who have gotten between the Mama Griz and her cubs that have survived to tell the tale.

Major says right on that one, Sir!


Red Square

This slaughter of the innocents was bound to happen! We at the Cube have warned the progressive hiking community last year about the danger of Mama Grizzly (see below). They didn't listen and perished for the lack of Party discipline and disregard of Party directives.
But they may yet be remembered in years as heroes who sacrificed their lives in the service of the Common Good - if the media succeeds in presenting the matter at the korrekt angle. Thus, TIME editors have already used "Mama Grizzly" in the most gruesome context, successfully achieving guilt by association. Keep it up, TIME Comrades!
Esteemed Chairman Punchenko
Woman-Bear-Pig-Americans have banded together to denounce Sarah Palin and her ongoing onslaught to snuff out healthcare, living-wages, food from the mouths of babes, choice, etc. etc. etc. ad nauseum.



Oh, and Sarah Palin hunts Woman-Bear-Pig-Americans from a helicopter. A helicopter! Shame on you, Sarah Palin -- oh, and you don't speak for me!
Red Square, People's Director
Not that I want to be judgmental or anything, but...

If a woman expects her daughter to have abortions, while she herself "hibernates" with whoever she wants and counts on the government for sustenance, isn't she by definition

THE OPPOSITE

of a grizzly mom? Junkyard dogs - maybe. But not grizzlies.

And if you dress up like Ewoks and claim to be something you're not, don't get upset if you get owned by Sarah and your stuffed heads decorate her wall.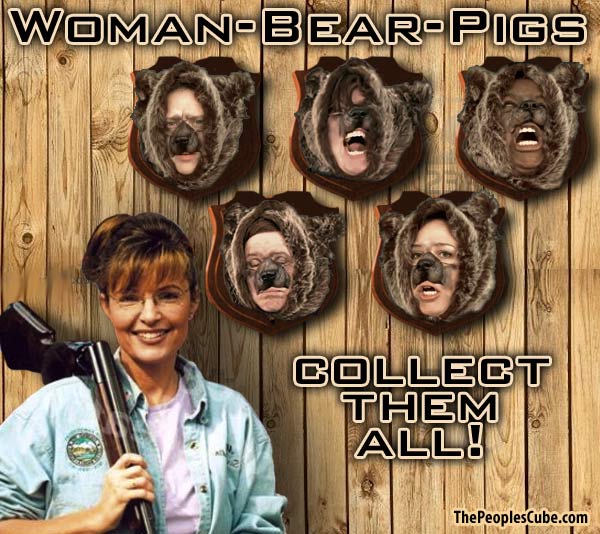 Comrade Whoopie

Global Warming made the bear irritable, the hiker had it comin'