Chairman Meow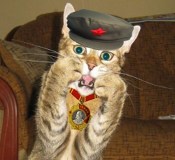 Look at the recent outrage that I have suffered at the hands of an evil corporation!
Monopoly has wrongfully appropriated my likeness for their commercial gain. Rest assured that is me. Simply replacing the Order of Lenin that I wear around my neck with that M tag is not fooling anyone.

R.O.C.K. in the USSA

Shocking, simply shocking, Comrade. What will these One Percenters do next?

I wonder if Dear Leader President Barackzebub Hussein Obama will address this in his State of Disunion Address tonight?


Chairman Meow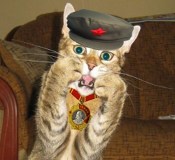 Although that would be a great honor, our Dear Leader must spend the entire four hours of his State of the Union address blaming the Republicans for the decline in last year's beet and ball bearing production.


R.O.C.K. in the USSA

Comrade Meow - does this four hours include the three hours of obligatory standing ovation at the start and the obligatory applause after every word during the Address?

Or is it four hours besides that?


Anyer Marx

Comrade Meow - I see that your image has been stolen for the
English
version. The improved USSA Tuesday™ Edition (all others banned from shelves) only has One piece, and that One piece begins and ends the game with all of the property. The dice are only to see how much in taxes is owed by other games, so that the game money may be shared equally among the games. Other game changes are in the works, i.e., the game of "Chutes" now has no ladders.

Chairman Meow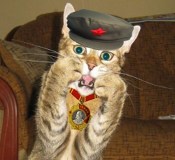 If they are going to put me in their capitalist game, then I shall play by my rules (Rules for Radicals, Monopoly Edition). Instead of paying rent, I get to Occupy other players properties which decreases their value. I also get to poop on the space.


ThePeoplesComrade

Obamacare community chest.
Barry's Place