Jolopikus
My Friends! I have found the largest of the peoples cubes! Thun, Switzerland!




Red Rooster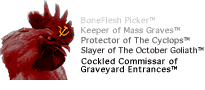 Thanks comrade! We fixed your peoples video link to make it more equal and moved to peoples blog for proletariat viewing.

Ура, товарищи!

-RR


Red Square

Thank you, comrade Jolopikus!

I imagine that the memorial plaque at the base of the People's Cube monument says, "From the grateful people of Switzerland to the valiant People's Cube collective, in recognition of its role of advancing the Glorious Progressive World of Next Tuesday."


Shovel 4 U
First Switzerland, then the WORLD! BWhahhhahaaaaa Bwhhahhaaahhaahhaaa...

R.O.C.K. in the USSA