Kommissar Chernobylski

Democrats will not accept the results of the Mueller Probe they had initiated and defended for more than two years.
They released a statement: "Trump is guilty of everything we said he's guilty of, the Dossier is factual, and he's a Russian agent."
Democrats will continue to investigate possible ties between the
Donald Trump
campaign and Russia and will re-examine a broad range of transactions involving Trump's businesses as well as those of his associates and ancestors going back to the
Roman Empire
​, according to a person familiar with the probe.
FBI investigators
and others are looking at Russian purchases of apartments in Trump's buildings.
Democrats promise to end their investigations when President Baron Trump steps down from office in 2032.
It appears that Russians never bought apartments in any other buildings in the United States, ever. That Russians bought into Trump's properties - having gotten past ICE and Beto O'Rourke - is clear evidence of large scale conspiracy, collusion, and bribery.​ There is no question according to a Democrat spokesman that money has been exchanged for the first time in history for the purchase of real estate.
Democrats will expand their investigations into
what went on in the bedrooms
in Trump's buildings. They expect to file FISA warrants for the tapes ordered by Barack Obama's DOJ which was planted there end of 2015, as well as photos of the gold plated toilets. ​​They are looking at ​Trump's involvement in the 2013 Miss Universe pageant in Moscow ​where almost 300 women accused the president of looking at them. ​They will also examine Trump's sale of a Florida mansion to a Russian oligarch in 2008, ​where money was exchanged for no reason at all because, unlike Mexicans and Hondurans, Russians sometimes pay for real estate.​
2008 is not a cutoff year however, said
the spokeswoman for Team Mueller
, now having joined Adam Schiff's team, "we are investigating all of President Drumpf's ancestors, the Duke and Duchess of Drumpf, the Earl of Drumpf, the Countess and Count of Drumpf, the Butcher and Butcheress of Drumpf, the Goatherders of Drumpf, and all of Drumpf's servants, cattle, sheep, and descendants with orange hair.​
John Dowd, one of Trump's lawyers, said on Thursday that he was unaware of the planned inquiry into Trump's ancient family ties​. One that stands out is the Earl's developing the Scottish bog into mud huts in 1432,​ and Ivanka's great grandmother's kilt business​ called the
Balls of Drumpf​
. Dowd considered it beyond the scope of what Special Counsel Robert Mueller should have examined with respect to Russia."Those transactions are in my view well beyond the mandate of the Special counsel; are unrelated to
the election of 2016
or any alleged collusion between the Trump campaign and Russia, or Donald Trump unfairly colluding with Republicans to beat Hillary. Most importantly, they are well beyond any Statute of Limitation imposed by the United States Code," he wrote in an email.The president told the New York Times on Wednesday that any digging into matters beyond Russia or beyond the Fall of the Roman Empire, whichever came first, ​would be out of bounds.
Allegedly Trump's businesses have involved Russians​, Chinese, Canadians, Congolese, Sri Lankans, Canadians and Kenyans for years, and so have those of a million other businessmen who don't limit their travels to Chappaqua, said the attorney.​
The Justice Department's May 17
order
to Mueller instructed him to investigate "any links and/or coordination between the Russian government and individuals associated with the campaign" as well as "any matters that arose or may arise
directly
from the investigation," suggesting a relatively broad mandate that will re-examine the Drumpf Family's role in Napoleon's demise, the rise of the Tang Dynasty, and the
Mad Cow Epidemic
that struck the United States on November 8, 2008​.
Democrat lawyers hired by Hillary Clinton for the post-Mueller era will mostly be interested in what happened, and in dealings with the
Bank of Cyprus
, where
Wilbur Ross
served as vice chairman before he became commerce secretary.
​They were the days after Wilbur Ross was allegedly recruited by Russia's FSB and then planted in the White House as an agent. Ross had nothing to do with it, he insists,
the Russians made him all his billions
.
In addition, Democrats will re-examine the efforts of Jared Kushner, the President's son-in-law and senior aide, to secure financing for some of his family's real-estate properties. ​Adam Schiff (D-Idiotsfornia) alleged that real estate properties do not normally need financing "since buildings stand wherever they were built with or without financing. He added, "It makes sense."
New York Democrat Alexandria Occasionally Cortexless promised to investige Kushner's need to acquire real estate in the first place, by demonstrating once again her executive and business acumen. She promised to ask Kushner: "A man can only wear one pair of trousers at a time, so why do you need more than one apartment or office building?"
The roots of the Democrat's follow-the-money investigation lie partly in a wide-ranging money-laundering probe launched by then-Manhattan U.S. Attorney Preet Bharara that had no interest in the
Clinton Family Foundation​
.​ Asked about his disinterest not focusing on money laundering elsewhere, Mr. Bharara replied using his famed logic: I have no interest in families.
With Adam Schiff by his side Brahara suggested that the Southern District office should follow up on the illegal anti-American activities of Trump's ancestors who had surely colluded with someone, somewhere, sometime, and for some reason Democrats can invent.​ They added in unison: "The evidence of guilt is inescapable!"​

RedDiaperette

I have also heard that Trump has laundered money by passing it through what he terms a "payroll" to people who then pass it to others in return for "goods" which are actually made in facilities that in turn purchase materials from other facilities that deal with countries that pass money to and from ... Russia.

I have heard all this from trusted sources. That is, I trust them when they tell me they have heard it from sources trusted by sources that they trust.

Is it time for impeachment yet? I am preparing the popcorn concession for the show trials.


Captain Craptek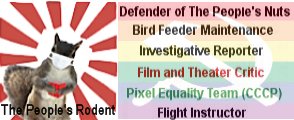 GOOD RIDDANCE TO THEM ALL!