Superkommissar Maksim

Whether the system worked or not isn't the point. The point is, no one was water boarded, no naked Muslim pyramids, and no illegal war for oil.

Opiate of the People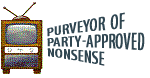 The system worked! Your glorious federal bureaucracy was ready with brooms and shovels to pick up every piece of the demolished plane as soon as it fell from the sky, and blame the appropriate former presidents for it. Nuance.


Commissarka Pinkie

I would like to award Beet of the Week to a brilliant little tool named Lollybaby. I found her via
this link
--she's a member of the prestigious, Progressive think tank known as the Democratic Underground, and she has come up with the most logical, sensible, coherent explanation I have ever heard for exactly what that guy was doing on that flight (boldface added by Pinkie):
Quote:
Nigerians celebrate Christmas with setting off fire-crackers. The questions are, is this particular Nigerian visiting the United States for the very first time? Was he engaging in his country's practice of celebrating Christmas with fire-cracker? Did he choose the very worse place to engage in his celebrations?

Like you stated, the mere possession of fire-crackers and displaying them on a plane should get this idiot (and I do not use the word 'idiot' lightly) charged with terrorism. But let us remember not everyone is aware of our laws, security concerns and way of life, I am just saying...
I think I understand now what happened on 9/11. Maybe the guys flying those planes didn't know they weren't supposed to fly them so low over metropolitan areas. Or that they had to fly AROUND the skyscrapers, not into them.
Back to Lollybaby--someone actually dared to engage in fascist profiling by responding to her post with the suggestion that the misunderstood passenger couldn't be a Christian celebrating Christmas because of his Muslim-sounding name. Stereotyping! I thought we got rid of that when we voted out those filthy rich intolerant, hateful, mean-spirited anti-choice Republicans with their God and guns and gun racks and Confederate flags.
Anyway, Lollybaby set that idiot straight:
Quote:
I know a bit about Nigeria, there are Christians with predominantly Muslim names as there are Muslims with predominantly Christian names. One can not tell but that is not the point I am making here. What I would like you to consider is, cultures have different ways they collectively celebrate Christmas. In the United States, people regardless of their faith celebrate Christmas also known as Holidays with gift buying and giving. In Nigeria, folks regardless of their faith celebrate Christmas collectively by setting off fire-crackers like we do on July 4th. You do not have to be a Christian to engage in this practice.
Just as he may not be aware of our laws, security concerns, and way of life, we do not seem to be aware of his. In fact, we may have totally dissed his culture by denying him the right to observe it by setting off firecrackers in flight!
In the meantime, I think Comrade Napolitano should give Lollybaby a high-level position in the DHS!

Komrade Zarkof
Comrade Napolitano is a true Leader!! We need more like her in charge of the VRWC's security.

This video details this brave freedom fighter's struggle to burn his penismake the Neo-Cons pay for their transgressions against Humanity.