MarkoBatelicic
Hey guys, sorry if this is wrong section or place to ask but maybe someone can help me. My forum just got bombarded with viagra spam, what can you advice me please what tools can i get to stop it?
Code:
cheapsildenafildeals.com title=cheapviagra/
I was trying to google something about this but with no avail. Sorry to bother but really need some help with this.

==========================



Ahhhhh... that was cute comrades, he hid the viagra link in the little frowny face, how special. I am touched... and weeping...
and... and...


COME BACK AND DO IT AGAIN YOU JACKASS AND I'LL RIP YOUR NADS OFF!!!

-RR

Commissarka Pinkie

They're now making Viagra in the form of Spam?

As for what tool you should use, that depends on whether you plan to take it orally or apply it directly to the affected area.

If it weren't for the damned neocons and their insistence on "abstinence only" programs in public schools, there wouldn't be this confusion.

There's no evidence that teaching kids to abstain from spamming keeps them from spamming. No matter what you tell them about the hazards and how it's better to wait till they find that one special website they can cherish and call their own, kids are kids and they're going to do it anyway--you're living proof of that--so we may as well have a fully-funded government program in the schools to teach them how to do it.


Reiuxcat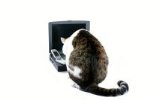 You are a goddess Commissarka! LMKO!!!


Comrade Whoopie

Comrade Marko, a small caliber pistol pressed to your temple and discharged will forever relieve you of any concerns over spam postings.


Red Rooster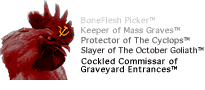 Much better..... take notes comrades, the bag of tricks is endless.