Raum Emmanual Goldstein
KOMRADES,
Kom. Paltrow (who I would LOVE to have dipped in chocolate), has raised the ire of her neighbours who found themselves "ill-prepared" to have Dear Reader (AP&PBUH) grace them with His Divine presence.
These "neighbours" have compounded their ingratitude by openly committing treason -- daring to complain about their "discomfort" and "inconvenience."
Rather than relish their rare opportunity to sacrifice a single evening for the "Greater Good," these TEA-rrorists are seeking to have the lovely Gwyneth removed from the neighbourhood.
According to a TEA-rrorist Xtremist Propoganda Website:
Gwyneth Paltrow Faces the Wrath of her Neighbors After Obama Fundraiser
October 13, 2014 By TPNN Staff Writer

It appears that Gwyneth Paltrow was too starry-eyed for Barack Obama that she failed to notify her neighbors(sic) of her fundraiser for Obama where people paid $1,000 to $32,000 to attend. Not surprisingly, the Obama regime didn't adequately prepare the neighborhood (sic) either. After all, the 'folks' are supposed to accommodate the chaos that he causes wherever he goes, whether to raise gobs of money from people he would chastise as 'rich' if they were Republicans or even if he just gets a hankering for a cheeseburger.

Apparently,

Paltrow's neighbors(sic) are so furious over the events of that day that they are ready to kick her out of the neighborhood

. Residents found themselves trapped, either locked out of returning home or unable to leave their homes to pick up their children or run errands. Families unable to get home were displaced at restaurants and other places around town.

According to the New York Times, one of Paltrow's neighbors(sic), Bret Lewis, posted his furious reaction on their private neighborhood social media site, Nextdoor Mandeville Canyon. He said the neighborhood didn't need people like Paltrow "who pay no heed to the concerns of their neighbors." He continued by saying "she belongs in movie theaters and President Obama can entertain in the Staples Center."

Lewis talked about how this insensitivity affected his family. He said, "My 13-year-old daughter broke into tears, was unable to do her homework. We finally got home at 9:00 and my daughter was up late studying, ultimately ill-prepared for her exams."

One woman yelled as she was passing by the fundraiser, "I have a crying child on a soccer field!" She was unable to get to her child due to the chaos and blockades.

While some neighbors, like Kim Peterson, felt that the issue was poor planning and failure to inform residents what to expect so that they could plan accordingly, Lewis disagreed.
He said, "It was more than poor planning, it's an abuse of power and, most importantly, unneighborly(sic)."
My Party Sources, however; inform me that Kom. Paltrow will have the LAST delicious word!

Thanks to the recent Supreme Court ruling regarding the abuse use of "imminent domain" Plans are afoot to have these unruly "neighbours" re-located -- by Executive Order -- to a FEMA Protective Custody facility somewhere in North Dakota -- so as not to be further "inconvenienced." They will receive "just compensation" for their properties adjoining Kom. Paltrow's Dacha in the form of a voucher for one free public execution for a family member of their choice and space in a mass grave "communal" burial plot.

As for the woman whose child was left on the Soccer Field, Child Protective Services has placed this child in a foster home pending an adjudication of guilt for Felony Child Endangerment.

The vacated homes will be reallocated to Gwyneth's close friends and associates who were kind enough to donate to the Party as a "Thank You" gift. (She's so sexy AND generous!)

You SEE, Komrades! Lovely Gwyneth was right to call for Dear Reader's (AP&PBUH) appointment to El Presidente for Life. And she will receive a socially just reward for it.
FORWARD!

Red Square

This reminds us of an earlier interview the People's Cube had with Gwyneth Paltrow, after she said that "the British are much more intelligent and civilized than the Americans."
The People's Cube contacted Gwyneth Paltrow in Britain and asked her to expand on the dinner talk issue in more detail.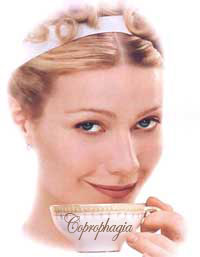 PALTROW
: The sophistication of the British dinner talk is nerve-racking. Their enormous vocabulary makes me feel dumb as a doorknob. For those of you in America, that means they use big words that you will never hear outside of Europe.
CUBE
: Can you give us an example of a big word you heard?
PALTROW
: If I could say those words I wouldn't be so impressed by them, now would I?
CUBE
: Not even a single one? Please?
PALTROW
: Let me see... Oh yeah, this one -
coprophagia.
I have never heard Mom or Dad say coprophagia at the dinner table. They always talked about work, and work is so unsophisticated. Unless your work involves coprophagia or something like that.
CUBE
: Do you know what that means?
PALTROW
: No, but it just sounds so romantic, sophisticated, and very European. It makes me feel so provincial. And if even I, the sophisticatest actress in Hollywood, feel like shit during the British dinner talk, what does that make the rest of my boorish and not-so-smart fellow Americans? Stupid retards!
CUBE
: Are the British soccer hooligans sophisticated in your view?
PALTROW
: To me, anyone who can speak with a British accent is a gentleman. In the street they may cuss and cut people's faces with broken beer bottles - but I'm sure that once those hooligans sit at the dinner table they transform into brainy cultivated aristocrats like everybody else here in Britain, engaging their vis-à-vis in classy, refined conversations about coprophagia and all kind of things that the capitalistic, work-obsessed American retards could only dream about - if they only knew what that means.

Dedhedvedev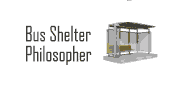 I just LOVE Dear Leader Obama's coprophagic smile.

Raum Emmanual Goldstein
Mmmmm... Now you each understand why I post with my overtly annoying sophisticated English accent.... One step closer to lovely Gwyneth bathed in Chocolate!

Thank you, Red Square for the apropos imagery.

Raum Emmanual Goldstein
Coprophagic - A most delightful 50-pound word, I shall have to add it to my vocabulary.


Captain Craptek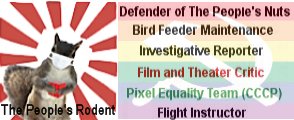 Raum Emmanual Goldstein
Coprophagic - A most delightful 50-pound word, I shall have to add it to my vocabulary.
Comrade Goldstein,
You might consider adding this matching 50-pound coprolite to your collection as well.

Kapitan Kangaroo Kourt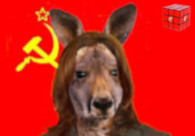 Gwenyth has a sophisticated name. That should be enough,! dDon't you think?!

This post has been edited to more accurately reflect infalible Party Doctrine™