Cradle to Grave Marxist

Comrades,
I am confused by recent weak socialist math in Democrat Agitprop.
I thought that $40,000 yearly was the limit for income to avoid Kulak
враг народа
status--this was from the early part of the primary debates. Now I hear that it is $250,000.
Why did I quit my job? I could have kept the car and the house.
We need the get strong message to David Axelrod for the holy telepromter:



All property is the State's property to hand out to the proles
(so much easier.)
Want simple tax code? Vote Communist! Vote
O
bama!
(I hope you have some spare change for me.)
Comrade "Pul"
Tiglath-Pileser III
Over 275
3 Years of Organizing Communities
Day of Glorious Unemployment

Commissar_Elliott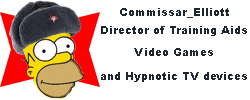 Worry not fellow comrade, for when the Glorious World of Next Tuesday comes, we'll all have jobs, and help The Party achieve true power of the world.