TheFineReport.com


General Confusion

Precisely,

To assist with using less keys may I suggest Bo'ner, it describes so many of his live's works. He also leads from behind and is known as "Barry's House Boy" or Barry's Bat boy" depending.


Pamalinsky

This new theme song, Robert Fine is just so perfect! I mean, recently Dear Oleander, himself has displayed actual tears in his latest "statements." All understood to be his "display of true caring."

Howsomever, I did notice earlier, when Beaner was made Speaker, how the likes of babes on The View suggested Beaner had "emotional issues" when he displayed such tears upon being elected. <off> I thought, "Good Grief!"
<on>
i am befuddled by this. Of course, that is my usual state. I would suggest to Beaner: "Man up, Man!"


Sugar Daddy Bear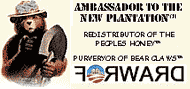 Comrade Fine,

Are you suggesting here a glimmer of hope using the word "if" he remains? What exactly are you trying to say here?