Red Square

Propaganda posters finally get deserved professional criticism, even if it's only from a comedian at
Cracked.com
:
Using a single drawing and a few sentences of text--the same raw material used to create Marmaduke--propaganda posters were supposed to influence the way people thought about their government and even their fellow man. As the below collection of posters demonstrates, no matter how unsuccessful the poster, propaganda is invaluable at teaching two timeless lessons: Your government thinks you're stupid, and when faced with unreasonable expectations, some people will lose their sh*t in hilarious ways.
Following is a review of
The 17 Most Unintentionally Hilarious Propaganda Posters
, which I can't possibly quote here due to the family-friendly nature of this site. Read at your own risk. Please note that some of the items are misconstrued, mostly due to the lack of proper translation.
Speaking of non-family-friendly propaganda posters, here's another informative link:
Perhaps, we can have our own poster-review workshop on this thread, if volunteers are available.

Captain Craptek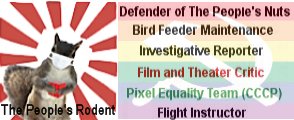 ThePeoplesComrade

Boy Scouts finally let me join.
Friendship Merit Badge (new multicultural design)
Every society has its Anthony Weiner.