Lenianna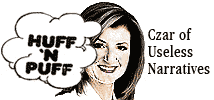 I received this offer of a free bumper sticker from Dear Leader Obama, and wanted to make sure all of you get the chance to tell him where to stick yours.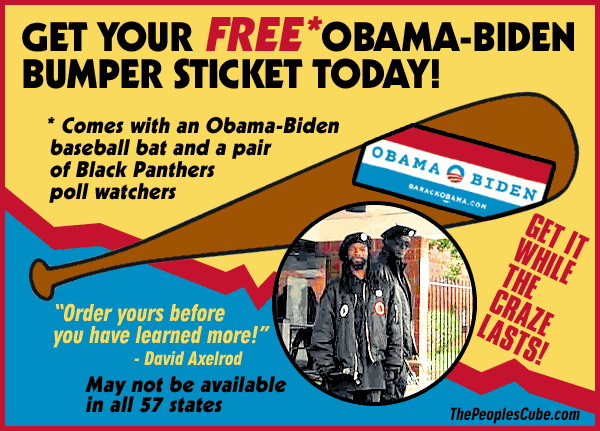 From: BarackHussein.com <

[email protected]

>
To: All Comrades
Sent: Wed, Feb 15, 2012
Subject: 2012 bumper sticker for B. Hussien Obama – where can we stick it?

COMRADE --

There's a free bumper sticker waiting for you --




Once you stick it in a special place, things might start happening. When someone sees it, they might go to our website to find out more about what President Obama has accomplished. Maybe they'll click on a link to attend an event in their area.




Or maybe they'll decide to have a conversation with you. You'll have a chance to persuade them to vote for President Obama. Or if they're already a supporter, you'll be able to convince them to get involved and persuade some voters themselves.

A lot of things can happen because of the simple decision you make right now.

We have a bumper sticker just for you* -- just tell us where to stick it.
______________________
* Comes with a free Obama-Biden baseball bat and a pair of Black Panther poll watchers.

Thanks,
Jeremy
http://my.husseinobama.com/Stick-it

M84

I expect a uniformed member of the Government to deliver mine to my rent-controlled apartment without me having to lift a thumb.


Comrade Šterpin

"Find out more about what President Obama has accomplished."
I'll save you the trouble of looking for any of
President Downgrade's
positive accomplishments –
THERE AREN'T ANY.
(Using the military apparatus that President Bush implemented and President Downgrade initially opposed to get Bin Laden doesn't count)

Red Square

Does this ass make my truck look fat?

M84

It does, Comrade Red Square, but it is nothing the FLOTUS cannot correct!