Broadside

I grew up in the suburbs of the Windy City and there is a lot to love about Chicago. Field Museum, Shed Aquarium, Art Institude of Chicago, Chicago Cubs and of course Da' Bears.
We can't kid ourselves either when it comes to the political machine of Chicago, something so big and corrupt that it was able to take over 1600 Pennsylvania Avenue.
Apparently everybody is missing Chicago so much they are bringing Chicago to the White House. All the wrong parts of Chicago.
Lynn Sweet:
SWEET HOME CHICAGO
Michelle Malkin:
UNIVERSITY OF CHICAGO
FULL SIZE IMAGE HERE

Red Rooster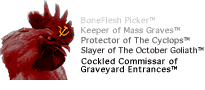 And home of The CPUSA, although it seems since Feb2008 now the National Headquarters has revamped to New York, we're moving up in the world Comrades, why does Comrade Ayers of Chicago not bomb this building? Oh, silly question...

[center][/center]


Red Rooster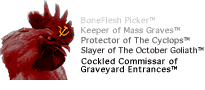 [center][left]The Chicago Way...[/left]
[/center]