Red Square

Obama Checks On Ahmadinejad's Pre-Condition
Posted by Michael Asher on Monday, October 27, 2008 10:36:34 AM
---
Update 2011
The above link is no longer available. Here's his Excellency Mahmoud making his Pre-Conditions perfectly clear:

Komrade Zarkof
His Excellency will regain our standing in the world and bring love and harmony to the unwashed masses!

Praise be unto Obama!!


Comrade Leftfield


Commissar_Elliott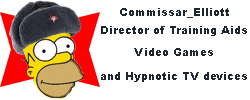 1) I thought Obama's grandma was sick.
2) Does this make Amadimejad the Obamasiah's Grandma?
3) Did Amadimejad reproduce asexually like Obama's mom, John Kerry?
4.) (off) Isn't going near Amadimejad dangerous to your health, since he's been exposed to all that radiation, it could make men sterile and the children to glow in the dark, along with their stickers?


Grigori E.R.

Be still your heart Commissar_Elliott. May the Peace of
Islam
be upon you my son. Mahmoud is perfectly safe and really a fun guy when you get to know him.
He can sing and dance too. Here's a cute little number he did with Mrs. Al and her under-wives as backup:

KOOK
I think his pre-condition is simply that Obama need take only one more step to facilitate Iran taking one more step towards Obama's position: .
.
. --KOOK

Grigori E.R.

Yes indeed Comrade Kook. The brilliance of Dear Leader Obama's foreign policy is so,.........sigh....... so very bright. It's like looking at the Sun. One can only glance at the brilliance, a longer examination leads to permanent blindness.