ThePeoplesComrade

The Obama campaign displays a generous cornucopia of achievements to bolster his presidential aspirations. But instead of burdening the people with endless dialogs of glorious achievement, they have chosen to laser beam a sure-fire winning theme, "Obama killed Osama". The shameless "got him" hucksters are pervasive and persistent.

Comrade Putout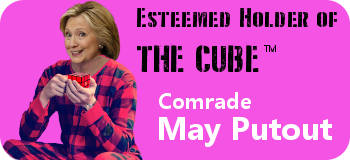 ThePeoplesComrade

The photo they don't want you to see. Osama bin Laden was deep throat.
Mystery item No. 1

General Confusion

Who would dare to dispute the word of dear leader? He is only looking out for "our" best interests and the prevention of bad dreams and other mental trauma on us.
Besides, the fish wrap is top secret.
All hail our benefactor!


R.O.C.K. in the USSA

Speaking of SEAL Team 6...

General Confusion

At least this is not a staged photograph, the real question is what are they looking at? Judging from the excited reactions of all, it could be a collection of dear leader's speeches.