Comrade Whoopie

While he was in the UK he was so impressed with the dental condition of the typical British prole, he decided to bring their progressive plan back here to America. Let the rejoicing begin.

Comrade Joe

Glorious! I will never have to brush my teeth again! The State will do it for me!


Komrade Zarkof
Now every High Ranking Party member will have a portion of the Gold Reserve with them! The USSA will once again be the leader of the financial world!


Red Square


Komrade Zarkof
Maybe someday His Excellency will go in for a vasectomy!! LOL

Comrade Whoopie

BigFurHat is truly progressive, first among equals at the head of the line.


Komrade Zarkof
Now that He has the teeth, all He needs is the ears and He can go back to visit His relatives on Ferenginar.


Red Rooster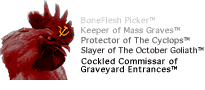 Rock it like ya know it Bam Bam! The One is truly progressive, now we shall all be stylin' and profilin'! I hope he hooks us up with low profiles too!