Margaret
ObamaCare Maria
"We'd like to spend the day at the Death Panel, officer."
Wish this book were for real. I'd love to read it. I love black humor.

Ivan the Stakhanovets

Your preference for comedians of color is noted, and while almost racist, fits the current narrative. And these guys approve...

R.O.C.K. in the USSA

Comrades, as I pointed out in my new thread "
Alinsky Comes Alive!
", it looks like we've got those Death Panels worked out!

Marshal Pupovich

What a waste these death panels Obamacare calls for. Yes Comrades, I denounce Obama PBUH, for this plan and plead with him to alter. He should remember how we did things in the Motherland. You put these people to work doing the People's will! And even their eventual death would not go to waste, for we would use their empty soulless bodies in the foundations of buildings, or to build our dams etc.


Fraulein Frankenfeinstein

I am looking forward to doing Ms
Supercillious.
.. Sebelius's job on the Obama Death Panel, but it is a long ride and I am feeling a little like death myself.

R.O.C.K. in the USSA

At least you shall have good music, Comrade Fraulein. The collective has chipped in to make sure of that.

Captain Craptek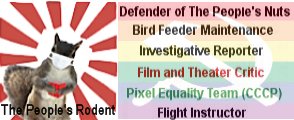 I'll bring the snacks...