Armenian Radio.

After six weeks of waiting for Party officials to review and approve my forms filled out in quintuplicate, I have acquired a specially distributed official Denunciation License.
Understanding as I am of my new found power, I shall refrain from denouncing all thoughtcriminals with the stroke of my pen... that privilege is reserved for Dear Leader.
However, I feel that it is my duty to the state to ensure that the gross inequality of denunciation threads for the time before Empress Hillary's Glorious Coronation is remedied.
So, without further ado, I shall point the first finger.....
I DENOUNCE BEN CARSON! His competence in the private sector is an abominable betrayal of his duty as a victim of racism. His compassion for the People™ has not been licensed by the Party. He does not use his compassion as a tool of the revolution.....
Are your fingers of guilt handy, comrades?

Konservative_Punk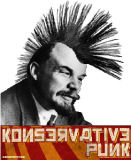 Ben Carson is an uppity Uncle Tom who needs to be returned to the liberal plantation.

What is his claim to fame? Separating conjoined twins? We need a uniter, not a divider. He should have spent more time finding ways to bring people together rather than separating them. HEIL HILLARY!


Kommissar Uberdave

Komrades! I'm so ready to denounce Enemy of The State™ Carson that I'll denounce Johnny Carson and Ed McMahon too!
Dasvidaniya everybody!

Armenian Radio.

My Dalek friends find the prospect of a Doctor politician to be quite insensitive, and my brainless inlaws find Neurosurgery to be quite insulting.


Armenian Radio.

The Jiffy Lobo is the only way to fix a brain. I denounce Ben Cursson further for heresy against science!


Red Walrus