Father Prog Theocritus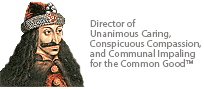 I have not been having too much time at Rancho del Rio Grande lately for our Many Titted Empress has demanded my attention. I am always flattered, of course--think of the other people whom she could gift with her beneficent gaze. Why, I have seen her tread on a mouse with her left hind hoof and then stoop and pick it up, breathe on it, and it sprang back to life, squeaking, and ran up her arm to kiss her cheek. So strong is her call to life and goodness.

I was sitting at her feet, as I should do, and at her right too, what an honor. That had heretofore been reserved for heavy-hitting campaign contributors of the Hsu variety. (It was also a bit troubling for that space becomes vacant with distressing regularity, but I'm always glad for the honor.) And she was eating her usual raw beef, gnawing off great chunks with her tusks while I was eating, such an honor to eat in her presence, a steak.

Our Empress paused and wiped the blood from her lips and said, "Theocritus, isn't that carbon on your steak?"

"Yes, Empress, it is. It's cooked well done."

"That's carbon dammit. That's carbon. We can't have that. The Goracle told me so the last time he came in his Navigator, you know, when Laurie David's Gulfstream was broken and he was in such a bad mood. Well, I would be too if Sheryl Crow had wanted to shower with me and I only had one square of toilet paper after a Saturnalia.

"But that steak you have. That steak there. It has carbon on it. Carbon contributes to Global Warming..."

"That's climate change, now, Empress. That way if the weather changes, we got 'em. Up or down, we got 'em."

She flashed me a look and there was a rumble of thunder but she eased her elephantine, but oh-so-lovely buttocks on her leather couch, passed gas and went on.

"All right, goddamned it, climate change. How in the hell," she went on in an apostrophe, "do those dimwit wackos fetishizing their little quack cures expect me to keep up with them? Me, who have better things to do?"

She looked back at me and continued, "Theocritus, carbon, schmarbon. I don't care and I don't buy it anyway. But the Kos Kiddies do and that sucky Soros does too and we might as well use them, and all those Joe Six-Pack people who don't like me anyway..."

"Empress! To know you is to love you!"

"Theocritus, you're such a suck-up. But I love it." She settled back in her couch, and I don't know what passed gas.

"I have decided that..."

"Yes, Empress? Yes!?"

"...that I shall take control of the Goracle's narrative, what a wuss, and go for this carbon bit, and I'll ride that like Bill rode Kathleen Wiley but I'll ride it into the White House."

"Brilliant, but from you, what else?"

She preened a bit, "Yes, Theocritus, it is brilliant, isn't it. I don't know how I do it."

"Only the gods know, Empress."

"That's because I tell them what to think, Theocritus; haven't you figured that out yet?"

"Of course, Empress, of course."

"You're such a suck-up, Theocritus."

"Anything for you, Empress, anything for you."

"That's what I like to hear and the way I like to hear it. Now where was I? Oh yes. I'll ride this carbon-credit bullshit right into the White House and once I'm installed you won't pry me out with Archimedes' lever and a hydrogen bomb and then I'll ban cooking all meat, starting with barbecues, and fuck Joe Six Pack.

"That'll show 'em I mean business."

"That surely will, Empress."

With that, she threw her bone at me and knocked me out.

What a lucky man I am to serve her.


Comrade TankoGrad

Theo,

You are truly in a glorious capacity to serve the Party and our MTE who controls it so!!!!!

We shall have to immediatly ban cooking and heating in evil conservative ™ homes after the coronation. This, as the article you cited from Jessica's well on global warming flooding conservatives, will kill off said conservatives until there is no one left BUT vegan progressives eating raw plant matter!!

Ok, so the guy on the Jessica's Well article thought like "The Weathermen" of the 1970s. They got the idea from Stalin anyways.


Father Prog Theocritus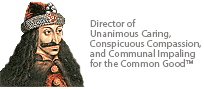 Tankograd, there is more evidence that Our Glorious Movement is closely allied to
ManHuman
Beingkind's noble past. Someone has discerned a link to the Polynesian Cargo Cults
here
.
By the way, if I read the reports of Captain Crunch right and his insistence, right in my opinion, in the Beingness of all things, because it is Speciesist to insist that humyns are the only intelligent things, and if we are to have National Health Care, as Our MTE has insisted that she grant us, then let me be the first to propose government-paid psychiatric counseling for cockroaches with an irrational fear of being stepped on.

Premier Betty

Commissar Theocritus
let me be the first to propose government-paid psychiatric counseling for cockroaches with an irrational fear of being stepped on.

Will this service be offered to proles?

Comrade TankoGrad

Yes, we must also include healthcare for whales distressed by sonars and birds hit by power generating windmills. Also included must be emotional support for animals so cruelly mis-named by evil whit conservatives. Counseling for the goonybirds!!! No mocking the mockingbirds!!! Free Prozac for the Dodos (I know they are extinct, but it is our intentions that matter)!!!

By the way.... How is Bruno dealing with the time you must spend in service to the MTE?


Father Prog Theocritus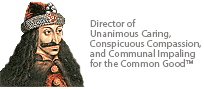 Betty, we will promise this service to proles but since the proles do the work, it is safe to spit on them. Don't you remember the first rule of the coward? See Dave Lindorff. And we will not extend this service to the moonbats, for frankly I just get off to their howling rage. It's so useful.

TankoGrad, Bruno doesn't mind in the slightest. I brought him along, of course, the the MTE, in her endless magnificence, had Tiffany's make him a collar of mink and diamonds. (Well, they're cubic zirconium, the mink is rabbit, and the box is Tiffany's, but he's such a silly queen he doesn't know. All I have to do is dangle a sales slip from Needless Markup in front of him and his eyes cross, he starts drooling and he shouts, "Gimme! Gimme! Gimme!" and makes a dive for what I have in my hand. Which could be a Wally World bag, and the charge slip could be a shirt for me, but a queen and his delusions cannot be parted. But you ought to see it: this 6'3" man in spiked heels screaming like a little girl with an ice-cream cone held behind grandfather's back.

I was clever, I think, in this: I got him a tic-tac-toe set made of acrylic, but said it was Namibian quartz (WTF?) and a Donna Summer CD and he's on Cloud Nine for hours. Not that you have to worry, but if you're choosing a queen, I'd recommend a silly one. Once I had one from Rice who was a bit hard to control. Silly but smart, and that's deadly. And who is now an economist for the State of Texas. [true]

But he had Progressive Opinions [true and one reason he's in the People's Republik of Austin and I'm not.]