Broadside

If you had to sit down and make a list of the most dangerous threats to the good ol' USA you might put Al-Qaeda, North Korea or Iran. I myself would put Barack Obama. You might ask why but I would ask why not? Take for example an issue that the Obama administration is taking a hard line on…… Cheerios.
I could have spent a month working on a list of threats to this great country and nothing even related to the "oat" family would have made the list. Ok, maybe "Hall & Oates" but that would be it.
Change you can eat:
YUCK!
Ohhh, here she comes:
MANEATER!
VISIT ME HERE
http://thelcabroadside.files.wordpress.com/2009/05/osamacheerio-copy.jpg

Red Rooster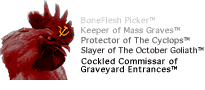 Delicious! Now that's Cheerios Change we can believe in! I was becoming very concerned about the proles in my office consuming massive amounts of Cheerios each time we collected 500 dead previously proscribed peoples votes. Now, thanks to his O'liness, their consumption of Cheerios will drastically curtail and vote counts will go up.

Toast your wild oats to the Glorious Worlds of Next, Next, Next, Next Tuesdays.

Cheerio,

RR


Commissar_Elliott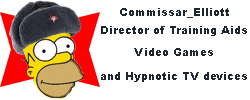 There's an O we can not believe it.


Grigori E.R.

I was thinking Cheerios, the Breakfast of Champions for
Islam
.
Lets see.....hmmmmm.......Osama, Cheerios and threats to the USSA? I could not find anything on Osama Bin Cheerio, but I did find this:
Huevocartoon- Osama Bin Huevo 2
(
warning-strong language
)