INGSOC

State Media Coverage Here;
http://www.msnbc.msn.com/id/21134540/vp=39455183&#39455183l
As Matt Lauer says you never guess what fun filled group would be capable of putting together such a park in a beautiful resort town.
Please go and support our friends. Bring home hats and shirts, ride the cable car and stay in the hotels.
In the report some Jew guy gives his opinion that there might be propaganda at the park. Just dismiss him as our correspondents do.
If I knew how to imbed video I would. Nevermind the baby, that reporter could barely contain her excitment.

Shovel 4 U
The Peoples Engineering & Taste Testing Dept. has finished your request comrade.




Ivan the Fool

I have it on good authority that a favorite item at the souvenir concession is a soccer ball made to look like the severed head of an IDF soldier. You can imagine the hours of fun Jihadi children will have as they chant "Allahu Akbar" while
kicking about
the severed head of an evil Zionist occupier.

Father Prog Theocritus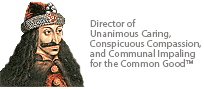 I denounce all comrade here. By definition the Joos are always guilty. By definition. Joos were responsible for the meteor strike in the Caribbean which killed the dinosaurs. That is until Nanski rose from the swamp to revive the breed of velociraptors.

I know for a fact that Palestinians didn't mutilate the bodies of Joo soldiers because the Joos have no right to exist so whatever was done to them wasn't done. Get it?

Those goddamned Joos. How dare they run a representative democracy? What a horrible example! And I have read of a suicide bomber who didn't make it and tried to get back to be treated medically but the Palestinians turned him away.

The Joos treated him! They treated a man who tried to kill them! A good prog would blow the murderer and kill the Joo doctor.

I hate the Joos. Look at Israeli enterprise. Look at their invention. Look at their rule of law. That alone is enough reason to hate the Joos. And all the stuff that the Joos have done. Medicine, arts, sciences...

How dare people show up the rest of the world by being that talented?

Help me comrades. I'm going on a fact-finding trip to Europe and I need to brush up on my anti-Semitism. After all, Europe is cranking up again, and they need someone to hate and it's the Joos. Again.

And why not? Judenhass has always been popular. Look how far it got Hitler.

Look how far it got Helen Thomas.

Look how far it is getting Dear O'Leader, who is throwing the horrible Joos under the bus.

So don't even consider that anyone on earth is guilty except the Joos.

Unless it's the Bu$hitler.