Ivan the Stakhanovets

Biden Gets Booed At St. Patrick's Day Parade In Pittsburgh
AP (associated potatoes) Residents of Philadelphia will be purged and taken to gulag if the perpetrators of this heinous and blatant disrespect toward Party Leadership are not immediately surrendered.
Dear Leader (PBUH) his own holy self would have been in that parade, but was otherwise occupied and properly and in the course of his duties dispatched his #2, Smokin' Joe Biden. Such an act toward Biden could have been perpetrated against Dear Leader, and such thought crimes for potential acts of wrongdoing must be punished.
The entire city will be repopulated with party faithful and re-named "the city of gender neutral respect for diversity" unless the guilty are surrendered promptly.

R.O.C.K. in the USSA

Not to worry, Comrade - it's nearly time for Philadelphia to be Occupied again, and besides, the New Black Panthers gonna be takin' care of business too, know I'm sayin'?

I suspect that the crowd was saying "COOOOO(L)..." anyway, rather than "BOOOOOOO" - you know, like, "Biden's coo" or "That's coo". Very similar sounding, and much more like what we would expect to hear from a crowd in Comrade Biden's presence.


Lenin Grad

Hey, Bartender, get Joe another green beer....it's been a rough day! Erin go Blah, blah, blah.....

UnifiedInformation

How dare they???
Ah, but the solution is simple, really, we can edit out the booing with resounding cheers in post! Huzzah!!


Comrade Loaf
Social justice worked in the Ukraine, it should work in the 59 United States of New Zimbabwe!


yuri trotynov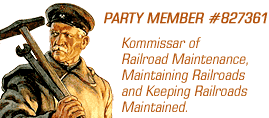 Could that vile din have been simply the wind whipping around the buildings? Surely no one would disgrace the Party's #2 (first loser) with such a show of disrespect. If this truly was a case of distain as reported, I am sure the Party security apparatus will bring the guilty to swift and well deserved justice!


Radio Retrograd

I can assure you, Comrades, that official transcript beamed to proletariat over glorious Hi-Fi Air Waves, and read by, yours truly, did not include "boos." Radio RetroGrad is sometime powered by "booze," but loyal Party members need not knowing that! [hic]


Ivan Betinov

Wow, Radio Retrograd! Where'd you get the really cool Barry O'Bama ear set? Eat yer heart out, Mr. Spock!


Radio Retrograd

Ivan Betinov
Wow, Radio Retrograd! Where'd you get the really cool Barry O'Bama ear set? Eat yer heart out, Mr. Spock!
Oh Comrade Betinov, thanking you for kind words. It is not every day that Dear Leader approves new portable receiver apparatus for use in service to Glorious State. It is our beliefs, here in Department R (Radio) , that Dear Leader has custom set-up for personal use, much grander, of course. Why you can see him wear them every day for official State function. He is so advanced, do you not agree? (Mr. Spock? I have heard of this Mr. Spock . . . Is he not from Kenya, too, like Dear Leader? Writing books about young Comrades for Heroic Mothers?)