Ivan the Stakhanovets

Massachusetts police using pink handcuffs for breast cancer awareness
Prostitutes? Crack dealers? Shoplifters? Ax murderers? Extortionists? Unlicensed manicurist?
While ignorance of the law is not an excuse, lack of awareness of breast cancer will be prosecuted to the fullest extent of the law.
By the way, any of you slackers or Rethuglikkkan tea-party sympathizers who question the effectiveness of awareness to show you care can answer to Commissarka Pinkie who cares more than you, and retains the option to WHACK you with a pink shovel that she has had commissioned.
I'm heading to the beet fields, because I care.
And I'm aware of breasts.

Red Square

I wanted to make a pink "Feminist People's Cube" but then I thought it might be construed as a thoughtcrime of deviationism aggravated by historical revisionism. After all, the issue is never the issue, the issue is always the revolution. So I chose to keep the Cube red: the korrekt kolor for all seasons!


Comrade Abrakham Linkol'n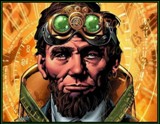 When in this situation Comrades, please request that the cuffs be placed in front and not in back. That way the ride to the Gulag is more comfortable. A friend told me this.


Pamalinsky

"Pink is my "signature" color."
A female character with Diabetes.
-Steel Magnolias, the movie