The Central Scrutinizer

I saw this while scrutinizing The Glenn Beck show for ThoughtCrime ™, I know, low hanging fruit and all that, but, I felt it necessary to bring it to everyone's attention as to how we could all learn at the feet of a True Progressive Thinker.

EMBEDDED VIDEO NO LONGER AVAILABLE


If you take nothing else from this video, remember. "It's for the children".


Dr. Nyet

Such a Progressive attitude on kindness. For what greater love could a mother have for their child than to hold a pillow over their faces. To our progressive socialist brethren and sisters in the Fabian Society, I must give a salute.

Sure, some of the Tea Drinkers might think it is more akin to something Orwellian, ala "Freedom is Slavery". But they of course are uneducated counterrevolutionary Global Warming denier types who are badly in need of training in Harmony Studies.

I am concerned about the others in the studio however, they appear to be SHOCKED at what this great Progressive is saying. In fact , if I did not know better, they appeared to be appalled. Surely, they were merely in awe of her forthrightness.


Ivan Ivanobitch

[off]

Jaws dropped

[on]

at impertinent line of of questioning spat out by religious nuts on panel.

Raum Emmanual Goldstein
Bravo! Virginia!
Ms. Ironside was a pupil of mine at the Josef Mengela Institute (School of Early Childhood Development) and has interned with us on the Complete Circles of Life program. She has made me very proud. That she said it all using a condescending proper British tone furhter adds to the superiority of her genius.
I have long been an advocate of what we term here as "retrobortion™ ". When we recognize that the fetal mass does not gestate and become a "viable" human being until after it reaches the age of 18 or 21, then it allows us to more closely apply the appropriate pre-natal care. For example, if any potential "birth defects" appear before the time of full gestation (e.g. a propensity towards joining a church, becoming a tea-bagging RethugliKKKan or becoming some other form a juvenile delinquent) the "pregnancy" can be "aborted." That ensures that true love from the parental units may be employed to avoid the kind of neglectful care that leads to such defects.
And of course, as the State essential owns the children anyway (and merely entrusts them to parental units for the sake of after-school care), if the parents are not willing to retrobort the non-viable growth, the State is able to step in. As you know, often times these things are better left to faceless government bureaucrats who possess a more objective view of these kinds of situations and can provide the kind of love only the State is capable of. It's the modern progressive version of the ancient Etruscan model..."We brought you in this world and we can take you out any time we desire."
We here at the Josef Mengela Instute call it our "Modest Proposal." It is the next logical step once the public accepts partial birth abortion. It is certain to elminate all kinds of needless suffering.

Comrade Whoopie

The message this brave and caring woman sends must be repeated often and loudly. To that end I posted it as a comment in another thread. There are some statements our fellow travelers have made that must never be forgotten. They should be enshrined in the collective memory for all time.


Leninka

Nothing is more caring than a Progressive woman willing to kill a handicapped child. If only the rest of us could be sensitive enough to the pain of a handicapped child to know that it would rather be strangled to death than live. What is wrong with people these days? Don't they get it? Some stupid Rethuglican mother would probably force their child to live, I suppose.


Groucho Marxist

Ah, soon the Soylent Green will come in a fresher tasting children's flavor.


Boris Badanoff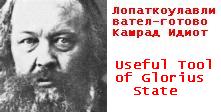 Can't wait for the crop of "spring lambs"!

General Confusion

This "mother of the year" candidate said "any good mother would" she was referring to those Comrades who wish to control the "excess population" by parent induced euthanasia [PIE].

What human has a dislike for PIE? Probably very few. Politically acceptable verbage is the issue, not the pie itself.