TheFineReport.com

THE ADVENTURES OF EBOLA BOY
Q: Why does Ebola Boy miss 60% of his presidential intelligence briefings?
A: Because Ebola Boy is only 60% as intelligent as any other president.

Lev Termen
Something's suspicious about that and I can't quite put my finger on it, but let me illustrate.

If he was 200% as smart as the average bear, would he attend the meetings twice?


PolPotLuckSupper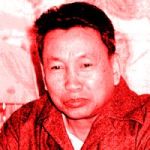 It has been reported that 0bola has spent more time on the golf course than in security briefings.