liberationtheologist
I denounce these pieces of propaganda proliferated by conniving capitalists!
"Character Off" After reading depressing news about the state of our government, I find it very therapeutic to hit communists over the head with light poles. Plus the Freedom Force games are just plain fantastic. "Character On" I hear it can be had for only five Capitalist Exploitation units off of the neo-Kulaks of
Steam.
Reminds me of the Rethuglican favorite "Red Dawn."
If any other comrades would like to expose more reactionary video games please do so. Soon the perpetrators of these capitalist media crimes will find themselves in Siberia bartering scraps of food for cigarettes.

Commissar_Elliott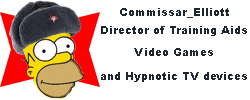 I've got so many I could tell, but to name all I know would out do some of our other comrades.

So I'll name a few:

Call of Duty series (especially COD4)


Resident Evil 5


Halo 3 (Here's a sample of one aspect of its reactionary ideals)


I question whether the Grand Theft Auto series is, because of all the whining on both sides of the aisle. It does a funny, but good, job of satirizing American society, but I'm not exactly sure where it all stands, so enjoy this video from GTA IV.




liberationtheologist
Most equal work Comrade Commissar Elliot. (character off) I can't believe I forgot Call of Duty! The part in the first game when your buddy kills his own commissar, to allow you to make a strategic retreat, is one of my all time favorite gaming moments. Then in the beginning of the COD2 your Commissar sends you to the front while he stays behind to murder a POW. I love those thought criminals at infinity ward.


Commissar_Elliott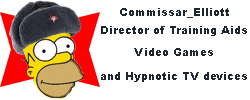 (off)
I can't wait for COD 6: Modern Warfare 2, shooting commies and terrorists is fun.

If you want to know one of my best moment in video gaming was, I was playing GTA IV, Cops 'n Crooks 2-on-2 with a friend. If you haven't played the game before, the Crooks either need to reach a destination or kill the cops, and the cops need to kill the crooks. Anyway, my friend and I were the cops, we'd already smoked one of the crooks, my friend was away from me and heading for the last crook. The plan was, he'd kill the crook, or at least work him, while I grabbed a rocket launcher. I got the rocket and was heading to my friend, but before I got there, he got killed, so it was him, versus me, and he wasn't leaving, so it was going to be a bloody fight to the death.

I grabbed a fast car and bolted for the enemy. He was at a dock, and I was coming from a hill. I swear this could be remade into a movie scene. Anyway, I was going fast, jumped the hill and ditched my car because the crook was shooting a rocket at me. I couldn't of timed it better, because when I landed, I was behind cover, the car was basically a distraction shot, and I took cover. He got out of the way, and I unloaded the rocket on him.

Just making conversation.