ThePeoplesComrade

Dow down more than 400 points as market plunge continues
The Dow Jones industrial average was down more than 400 points at midday as pessimism about the global economy grew. The Dow had dipped to 11,490, down 406 points, or 3.4%, at 11:25 a.m. Pacific time. Broader indexes were down more sharply, with the technology-heavy Nasdaq composite index plummeting 3.6%.
Obama: "We're Not Even Halfway There Yet"
"It's been a long, tough journey. But we have made some incredible strides together. Yes, we have. But the thing that we all ought to remember is that as much as good as we have done, precisely because the challenges were so daunting, precisely because we we were inheriting so many challenges, that we're not even halfway there yet. When I said 'change we can believe in' I didn't say 'change we can believe in tomorrow.' Not change we can believe in next week. We knew this was going to take time because we've got this big, messy, tough democracy,"
We must make things worse to make things better.
We must destroy to create.
We must tear down to build up.

Ivan Betinov

Obviously, this is a reaction to the Taebagger Terrorists' attack on Dear Leader's plans. What American business needs is much higher taxes and increased regulation, and the traders on Wall Street know this. They are showing their displeasure with the Republicns and their reluctance to pile on more debt. As every correct-thinking economist knows, the best way to get out of debt is to borrow more money, especially if you have reached your credit limit.


Laika the Space Dog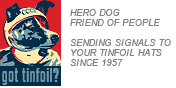 Yes Comrades! A GLORIOUS Day indeed! And just in time for Comrade Zero's Birthday! The Capitalists have taken a beating today! -512 points on the Dow Jones.

Memo: Remember, if some useful idiot starts complaining..."It's George Bush's fault!".


ThePeoplesComrade

Now that we have a "SuperCongress", the second half will move more rapidly.