Karl Marx Treatment Center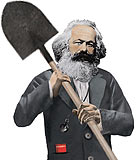 KMTC Reports, Washington DC -- Has the Democratic Party brand become obsolete? A majority of Americans think so. But can the Democrats learn from the errors that have made America turn away? Do the Democrats have the capacity as a Party to become critically self-aware and fix the self-destructive faults of their Party's character that have made a majority of Americans abandon them in droves out of disgust, revulsion, and moral outrage?
Many helpful Republicans have come forward to offer the Democrats advice.
"The Democrats need to re-identify themselves, they need to re-brand," said one helpful Republican on the street. "Their message is just not connecting with the American people and if they listen to our advice about the vision of the American dream and how to achieve it they can pull themselves back from the brink of extinction and re-popularize their Party. We can help them do that, they just need to listen."
"No one trusts their brand anymore," said another helpful Republican. "They need to follow our advice. We would like to help them... or else they are history. That would be too bad."
Whether or not the Democrats will listen to the Republicans advice and change or if they go the way of the Whigs is to be seen. Perhaps with enough therapy they will be able to rise above the bizarre pathologies that have landed them in the death ward of the hospice of the garbage can of terminally ill egomaniacal political ideas.

Captain Craptek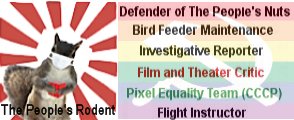 Komrade Marx,
I wish I were able to offer some help, but I believe this unfortunate situation requires a specialist.

Krasnodar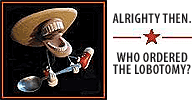 Will that be one lobe, or two ?


Ivan the Stakhanovets

Comrade Betinov is going to disapprove of this.
I want to watch...