Ivan Betinov

Mark Knoller, CBS, Wrote:
Quote:
A week after telling the nation that "nobody messes with Joe," President Obama bestowed yet another title on Vice President Biden to describe his role as a zealous overseer of the $787-billion economic stimulus plan.

"To you - he's Mr. Vice President, but around the White House we call him 'the Sheriff'- because if you're misusing taxpayer money, you'll have to answer to him."

Addressing employees at the Department of Transportation with Biden at his side, President Obama went on to say he wants all of us to be part of Biden's posse.

"I'm deputizing every single American to visit a new website called 'recovery.gov,' so you can see where your tax dollars are going and hold us accountable for results."

It's clear the White House is calling on the nation to saddle up for stimulus – in the hope it will slow and reverse the recession.

Biden is modest about his role in all this. He got a standing ovation as he began his remarks, but responded in an "aw shucks" manner by telling the audience "you need not stand for me."

Move over "Smokey and the Bandit," here come "Obama and the Sheriff."

That's right kids! Be the first in your neighborhood to join
Sheriff Joe's Posse!
With each and every membership, you will get:
--> The Official Sheriff Joe's Posse shiny silver plastic deputy badge with the Sheriff Joe Posse logo highlighted with glitter and colored glass shards!
--> A pair of naugahyde chaps, complete with fringe trim and faux silver medalions!
(For best stimulus results, do not wear jeans with chaps)
--> An Official Sheriff Joe's Posse straw hat with the exclusive tin-foil lining!
--> A Genuine Sheriff Joe's Posse two-holster gun belt with empty cartridge loops and both holsters sewn shut!
--> The Official "Obama and the Sheriff" Fan Foto suitable for framing!
Sheriff Joe wowing the Department of Transportation w
ith his famous
Tor Johnson impersonation
So Don't delay, Join Today!
Saddle Up For Stimulus, Buckaroos!
Sheriff Joe Needs YOU!

Ivan Betinov

See, Comrades? Treat the voter like a not-to-bright eight-year-old, and the world is our oyster!


ObamaMarx2008
Yeeeeehawwwwwww!!! Get ready for one wild ride, kiddos


Komrade Zarkof
Praise Lenin, we have such Progressive leader's laying out the Party's vision of the future!


Red Jim

I'll enlist in Joe's Posse! Can I be in the Patriotism squad?


Commissar_Elliott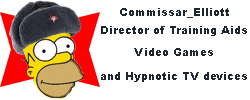 I'm assuming the posse looks like this?

Sea-Bass

Joe Biden is a posse!!!...HA!


Commissar_Elliott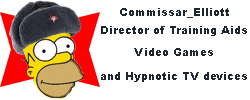 Hahaha. . . we all know what you mean Comrade Sea-Bass.