Comrade Whoopie

Comrades, in the spirit of self criticism, I must denounce myself. I have been bitten by the bug of defeatism. I fear that our fellow traveler, the messiah Obama is on a calamitous path. This fascist counter revolutionary bitch Palin has been our undoing. Something must be done about her or we shall surely lose this election. Can anyone help or is it already too late?
I'm at my wits end. I've called her names that would make a school yard bully blush. I've mocked and insulted her children, her religion and gender. Nothing seems to help. In fact it seems as though my best efforts have only solidified her standing with the people.
I'm perplexed. What more can we do to convince the foolish peasants that we are correct?

Premier Betty

*snicker*


Union Boss

Why convice anyone? Why debate the obvious. We simply take what is ours. A call to assault bats, Commrades! Double Down on production of false ballots! Double time fake regisrations! Enough of this liver-lilly, wishy washy, whiny, low result bull crap. We REALLY take it to the people. You heard Obama! Get in their face IS OUR OWN SECRET CODE to lie, steal, cheat, beat, and claim what is ours! waaaaahhh, I'm scard, Polls are tightening, Sarah is getting all the attention, boooo hooo hooooo.

A riddle: What to you get when you cross a conservative with a scared, panicked liberal?
Answer: Two people that make me sick to my stomach, thats what you get. Two people who need some re-education at the gulag.


General Mousey-Tongue

Har!

Barry, crushed and despondent, turned inside himself and bitterly clung to politics and socialism...


Commissar_Elliott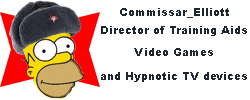 Fellow comrade, let us raid the "Diebolt" factory, and let ACORN run the election!

I know the Progressive World of Next Tuesday is here, but it truly is a glorious accomplishment to our MSM for snuffing imPali'n out of the picture. Of course, she never was in it.