El Presidente

Commie-rads. It appears as though the Hoarders of Zoo-Potti Park have done what apparently Dear Leader has been unable to do, create real "shovel ready" jobs. Most progressive, indeed.

ThePeoplesComrade

Those of the Occupy movement, who have my total sympathy and understanding, are following a time honored collective tradition of creating massive clean up work for those who follow. Ronald Reagan is given the credit for our robust economy of the 80's but Jimmy Carter deserves the credit for creating the mess which propelled the clean up, to give one example.


Sugar Daddy Bear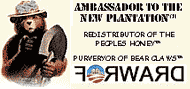 As one prole stated that their singular dog created more "shovel-ready" jobs than Dear Leader has, the Astroturfers™ have created more "shovel-ready" jobs than 1000 dogs.